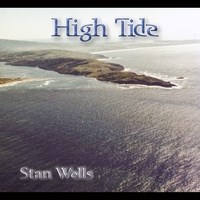 "High Tide is the culmination of a lifetime of expertly crafted, true to the core songwriting." - No Depression
Dillon Beach, CA (PRWEB) January 23, 2014
It takes a special kind of musician to bring folk icons like Nina Gerber, David Grisman, and Ramblin' Jack Elliott all together to play on a debut album, but Stan Wells has done just that with his latest release, "High Tide." The story of a lifetime, High Tide spans nearly 4 decades; from songs written in his college days in the '70s all the way up to the present, each track is timeless. 
Wells establishes his credentials to create new American standards from the first seconds of the title track, "High Tide," which features rich gospel-influenced vocal harmonies and a chorus that begs to be sung to the rafters. Stan is joined by the mournful violin playing of David LaFlamme on "Fantasy Junction," a tale of lost love, complimented by Nina Gerber (playing none other than Kate Wolfe's guitar) on the explosive climax of "Cloudburst Suite." When asked about High Tide, Wells says, "The songs I wrote in my youth about following my dreams and picking myself back up when I got knocked down have proven themselves to be true for me." The road hasn't been an easy one for Wells, and the rawness and gripping honesty come through every song on the record, reminiscent of legendary artists like John Prine, Guy Clark, and Steve Goodman.
"Stan Wells' 'High Tide' is a wonderful example of a singer/songwriter realizing a dream here at Studio E. Stan is finally making the album he's worked towards for 35 years!" praises Jeff Martin (Studio E), who did an exceptional job mixing and mastering all the tracks on the album. "High Tide" is the culmination of a lifetime of expertly crafted, true to the core songwriting. Discover the album that had folk icons like Nina Gerber and Ramblin' Jack Elliott coming back for more!
You can learn more about Stan Wells at http://www.wellperked.com.
For more information, images, or to arrange for an interview, please contact Melissa Zeigler at Powderfinger Promotions: melissa(at)powderfingerpromo(dot)com.
Powderfinger Promotions–Independent Radio Promotion and Publicity. Since being founded in October 1994, Powderfinger has come to be regarded as a top indie radio promotion and publicity firm with ties across North America.