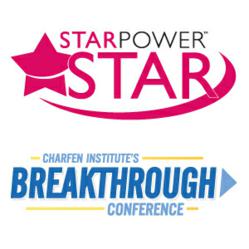 "We're excited to bring the ... STAR POWER Stars to share their successful strategies ... at this year's Breakthrough Conference."
Austin, TX (PRWEB) July 04, 2012
Alex Charfen, CEO of the Charfen Institute, announced today that the company's lineup of speakers for its July 15-18, 2012, Breakthrough Conference in Las Vegas will include 50 top-producing agents recognized as STAR POWER Stars who typically average over $35 million in annual sales in the real estate industry.
This year, the Charfen Institute's Breakthrough Conference presents an unprecedented networking and production-boosting opportunity for real estate agents. For the first time ever, it will bring together STAR POWER® Stars, Certified Distressed Property Experts® (CDPE), Certified Investor Agent Specialists® (CIAS), and other real estate professionals, all of whom are among the top-producing agents in the industry and on the front lines of the housing market recovery.
"STAR POWER Systems has been recognized for more than 20 years as the #1 brand in real estate education," said Charfen. "We're excited to bring the top agents from across the country, the STAR POWER Stars to share their successful strategies to help other agents build their businesses at this year's Breakthrough Conference."
Founded in 1989 by Howard Brinton, a real estate educator and speaker, STAR POWER Systems assembled the industry's top leading real estate agents to share proven strategies that have helped them become the dominant agent and earn the top revenue in the industry. In 2009, Charfen acquired the STAR POWER Brand and has continued to capture and share top agents success strategies with the industry.
During the Breakthrough conference the STAR POWER Stars will be featured in eighteen Breakout Panels with one moderator and four panelists. Twenty-three Stars will have "Spotlights" highlighting each individual to share their skills within the industry. Using social media and technology, working as a new agent, dealing with high volume, working with investors and distressed properties, best practices, and leadership are a variety of topics that will be discussed in each Breakout Panel and Spotlight.
For more information about Charfen Institute's Breakthrough Conference, STAR POWER Stars, and the complete lineup of more than 45 speakers, visit: CharfenBreakthrough.com
About the Charfen Institute
The Charfen Institute educates and trains real estate professionals and small business owners to find opportunities in chaos – either by providing solutions to the foreclosure crisis or empowering entrepreneurs with strategies to embrace their companies' full potential. The company produces more than 300 educational events each year through various divisions, including: the Certified Distressed Property Expert® (CDPE) Designation, the Certified Investor Agent Specialist® (CIAS), LEAD Experience™, and its annual Breakthrough Conference. The CDPE Designation is the fastest growing independent designation in real estate industry history, with more than 40,000 agents trained since 2008. In 2011, the Charfen Institute ranked No. 21 on the Inc. 500 List of America's Fastest-Growing Private Companies.
About STAR POWER Systems
STAR POWER Systems is an industry-leading real estate education company dedicated to having a profound impact on improving the quality of people's business and personal lives. Founded in 1989 by dynamic real estate educator and speaker, Howard Brinton, STAR POWER Systems has accomplished this goal for thousands by sharing what works with industry professionals who are deeply committed to growth. This starts with the generosity of the STAR POWER Stars, who represent the top business minds in the business. These active agents and production leaders show those in the STAR POWER network business-building tools that they can use to shorten learning curves and surpass competitors. In 2009, Alex Charfen, CEO of the Charfen Institute, acquired the brand. Through powerful live events, products and coaching, the Stars help to guide real estate professionals toward more successful and balanced lives. For more, please visit starpower.com