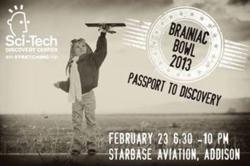 Dallas, TX (PRWEB) February 22, 2013
Starbase Jet, a full service private aviation company, announces they will host Sci-Tech's annual Brainiac Bowl which helps raise money to keep upcoming discovery exhibits and education programs in science, math and technology successful. The Brainiac Bowl will take place at Starbase Jet's hangar at Addison Airport on Saturday, February 23rd from 6:30pm – 10 pm.
The Brainiac Bowl's theme this year is 'Passport to Discovery' and will celebrate travel around the world. The event, which will be suitably held inside Starbase Jet's hangar, boasts a casual atmosphere and will feature several stunning aircraft on display. The roughly 400 planned guests will enjoy a fun evening enjoying cocktails, a themed dinner, live music, and a thought-provoking trivia competition among tables for the coveted title of Brainiac Bowl Champions.
The event will also feature a silent auction with several very notable items from Sci-Tech's sponsors. All proceeds from the auction will benefit Sci-Tech Discovery Center which serves as an educational museum and encourages individuals to embrace discovery and innovation by providing hands-on discovery experiences.
"Starbase Jet is proud to support a local non-profit operation. We are excited we have the opportunity to facilitate the community involvement and educational growth of the Sci-Tech Discovery Center which will be incredibly instrumental to individuals of all ages," said David Henry, Senior Vice President of Marketing and Business Development.
About Sci-Tech Discovery Center
Sci-Tech Discovery Center hopes to inspire by providing hands-on discovery experiences in the essential areas of science, math and technology to kids of all ages and backgrounds. Sci-Tech Discovery Center seeks to spark a life-long interest and help equip our area's children with these advanced skills. At Sci-Tech we believe in advancing education and providing inspiration to the next generation of engineers, scientists, educators and innovators.
http://www.mindstretchingfun.org/information/about-sci-tech.html
About Starbase Jet
Starbase Jet is one of the nation's leading Private Jet Service providers with their Dallas offices at Addison Airport, and other offices around the country including Houston, Austin, Los Angeles and Singapore. The company offers Private Jet Charter, Private Jet Membership, Aircraft Management and Aircraft Sales to its worldwide customer base. Starbase has been providing leadership and value to private jet travelers for more than a decade, and is the recipient of the prestigious Platinum Rating by ARGUS, an accreditation earned by only 5% of Jet Charter operators. For more information on pricing, contact Sales@Starbasejet.com or visit our website at http://www.Starbasejet.com.