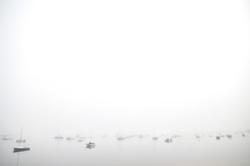 The house was like our own family museum with a hundred years of family life and history literally hanging on the walls.
Washington, DC (PRWEB) April 25, 2012
Revolving around the last summer in a house that five generations of his own family had occupied for a century, STARBOARD LIGHT is a redfitz (http://redfitz.com) film that explores the dilemma facing many who inherit a multi-generational family home. But even more that that, it's a film ultimately about the most universal of all human constructs: families and the places they call home.
Fitzhugh's grandfather died in 2005 and his grandmother in 2009, just shy of her 93rd birthday. Their children tried to work out a way for the house to stay in the family but "holding on to the house just wasn't possible. It was just too valuable," Fitzhugh said. The family was also concerned that if one family member ended up owning the house, it could create division.
"The house was invaluable primarily because it created unity in the family," Fitzhugh said. "Deciding to sell it was therefore very difficult and painful. The dilemma we faced is not uncommon though. Many families have faced or are facing similar decisions and these decisions always highly emotional."
Times change. A once simple and sparse seaside town has become crowded and opulent. A family and its finances have fragmented and its two brothers and two sisters, their children and their extended family witness the disappearance of a century of family memories when they sell their parents' magically beautiful, 160-year-old summer home in Cape Cod––the Starboard Light. Can they and how will they hold on to everything that this house has offered to the family? Whether it's a small cabin deep in the woods, a year-round family home that's been handed down generation after generation or a summer cottage, there is a Starboard Light in many families that have struggled to keep or had to painfully let go. Vicariously through this American family, STARBOARD LIGHT immortalizes the generations of memories and values baked into these shared family homes.
The goal of the Kickstarter campaign is to raise $50,000 and the deadline to reach it is May 4, 2012. If all the money is not raised by May 4, no commitments will be recognized and any funds received will be returned. For more about the film or to back the project, visit the Kickstarter page at http://kck.st/Hc19La or the official STARBOARD LIGHT website at http://thestarboardlight.com.
Nick Fitzhugh, a Washington, DC-based filmmaker, launched redfitz (http://redfitz.com) in the spring of 2010 after three years running Glimpse, a new division of National Geographic based on the company he started as an undergraduate at Brown University. His first film, SOCCER CITY, is being distributed by the National Geographic Channel and ESPN Classic and is available on iTunes and Amazon. Fitzhugh believes that stories allow us to share and understand experiences which in turn enable us to overlook the differences between us and instead see commonalities. This is the precept that gave rise to, redfitz, his film and photography production company. redfitz –– human stories for a small world.
Contact:
Nick Fitzhugh
filmmaker / dp / photographer
redfitz productions
human stories for a small world
nick(at)redfitz(dot)com
202.905.2350
http://redfitz.com