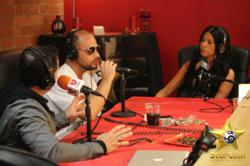 Los Angeles, CA (PRWEB) March 06, 2012
StarCam Radio hosts Jennifer Tapiero and Josh Nasar will have the cameras turned on them as they make a cameo on the March 11, 2012, episode of E! Channel's hit reality show, "Khloe and Lamar."
Cast member Jamie Christopher Sangouthai — Lamar Odom's friend since high school and best man at his wedding— was a guest on StarCam Radio back in December. His visit to the studio fell on a pretty big night for the former Lakers star. While Jamie was appearing on StarCam Radio, Lamar was being traded from the Lakers to the Mavericks.
Adding to the excitement of the evening, L.A. Lakers star and "Dancing with the Stars" alum Ron Artest (a.k.a. Metta World Peace) called in to reminisce about their childhood days of growing up in New York. Jamie also talked about his close relationship with his mom, his successful battle with cancer, his past as a computer programmer and Wall Street mover and shaker and how he is into sexting.
"Jamie is always a very charismatic person." shared "Khloe and Lamar" co-star Malika Haqq during a recent StarCam interview. "He's a fun-loving guy and has a great heart."
Prominent fixtures on the Hollywood scene, StarCam and Jennifer Tapiero have been featured on shows like "The Real Housewives of Beverly Hills", "Basketball Wives" and "Issues with Jane Velez-Mitchell." StarCam has over 1,750 celebrity interviews on its YouTube Channel. Jennifer also hosts Planet Love Match Radio, a weekly dating advice show that features dating experts and celebrities tackling issues regarding online dating, sex and relationships.
"We are working very hard to make StarCam a household name," stated Danny Margosis, StarCam's Vice President, Talent and Business Development. "Being featured in such a fun and high-energy hit show is a great step in that direction. We are out every week talking to the hottest celebrities at different red carpets, charity events and movie premieres, so don't be surprised if we keep popping up on more reality shows."
New episodes of "Khloe and Lamar" air every Sunday night at 10 p.m. Eastern on E!.