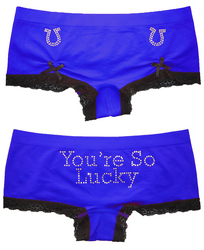 Star Candy - Blinging America One Booty at a Time
Los Angeles, CA (PRWEB) September 15, 2010
Los Angeles based designer Marisa Stewart launches a new generation of playful and style-savvy underwear being hailed as the perfect compromise between the rather extreme g-string and the regular panty. Star Candy's booty short undergarments are fit to flatter women of all age and sizes while tapping into their flirty and playful side. Each colorful piece is embellished with rhinestones featuring playful phrasing on the backside such as "Taken," perfect for the bride to be, to the flirtatious "You're So Lucky," to the sparkling peace symbol for the down to earth girl.
Founder and designer Marisa Stewart spent years in retail often fitting clients who complained about ill-fitting undergarments and awful panty lines. The result? Marisa was inspired to create a comfy, sexy collection of delightful undergarments for every woman.
"I want women of all ages to embrace their flirtatious side, but also maintain complete confidence and comfort – when you are able to be comfortable and sexy, confidence always follows," says Stewart. "It is so important for women to have a strong foundation of self confidence, so my goal was to create a collection of underwear that would inspire women to feel at ease in their own skin and exude self-confidence as well as a splash of sex appeal."
Stewart's inspiration quickly manifested into the Star Candy Collection. She also customizes her undies for special occasions and bridal parties.
For information, or to take a peek at Star Candy's new line please visit: http://www.shopstarcandy.com
You can also follow us on Facebook at http://www.facebook.com/shopstarcandy and on Twitter at http://www.twitter.com/shopstarcandy
###