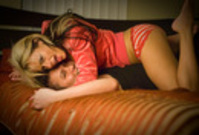 Starcraft 2 and other video games (like Lineage) have a stranglehold on Asian men's social life, especially in Korea, Japan, and China which hampers our ability to romantically connect with member's of the opposite sex.
Los Angeles, CA (PRWEB) July 22, 2010
Video games are destroying Asian men's sex lives.
At least that's the viewpoint of JT Tran, America's top Asian dating coach. Tran, referred to in TV, newspapers and magazines as "The Asian Playboy", has taught thousands of men how to reclaim their love lives, but sees modern video games as a plague to their chance of finding happiness.
"While we enjoy the fantasy-reality that these games give us, they keep us from socializing with other people," Tran said. "I have found this is particularly true for Asian men, especially with regards to Starcraft 2 and it's stranglehold in the Korean social life."
JT Tran is a top relationship and confidence expert who, as featured on ABC and other national media, has trained Fortune 500 professionals, corporate executives, political activists and actors alike on how to improve their confidence over one weekend.
With the release of Blizzard Entertainment's Starcraft 2 just around the corner, Tran encourages men to spend their $60 on something more productive – such as a date or night out socializing.
To further his cause, Tran is heading to San Francisco for the July 27 release of Starcraft 2 at SC2BayArea's Mission Bay Conference Center (UCSF) launch party to convince men to put down the computer games and re-enter the dating game.
He will be giving free dating information to Starcraft fanatics in hopes of inspiring them to use their time more productively.
"If I can get just one guy to take his life back, then it will be worth the trip," Tran said.
For more than 6 years, Tran has taught men, particularly minorities, tips and techniques in how to meet women.
He has been featured on ABC, Harvard, SBTN, Chicago TV, and in the pages of D Magazine, Asian Week, Nguoi Viet and many other publications.
The Asian Playboy is available for interviews in the Los Angeles area and other markets. He is available for phone and Skype interviews in all U.S. and international markets, as well as byline articles and guest columnist opportunities. Click here for an official company press kit.
About the ABCs of Attraction Founded by the Asian Playboy, the world's greatest Asian Pick Up Artist, the ABCs of Attraction has helped thousands of men worldwide improve social skills and lead more fulfilling and rewarding lives. The company offers programs, multimedia resources and events based on its trademark holistic, pick-up methodology. The program includes boot camps and workshops specifically designed to help men woo, court, date and seduce women. The ABCs of Attraction was founded in 2005 and is based in Los Angeles, CA.
Visit http://www.abcsofattraction.com for more information.
###