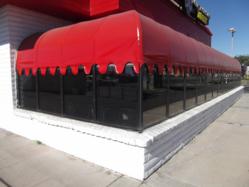 You really impressed me with your work ethic....and then followed up with great work and great products.
I have recommended you to some friends..... - Pat Kelley
San Diego, CA (PRWEB) June 13, 2011
Who wants to hear the sound of 30 cars idling, while dining at a restaurant? Ever ordered a hamburger, only to find out that the dining room temperature is hotter than your hamburger? How unpleasant is that? Star Glass San Diego understands the importance of having a great dining experience. And, because of the recent financial troubles in the economy and the fact that more business' have been calling Star Glass San Diego to upgrade to Low-E Dual Pane Windows, Star Glass San Diego is offering a 10% discount on all storefront or residential window remodeling, when upgrading to Low-E (solarban-60) Dual Pane windows.
When Star Glass San Diego received a call to replace all the faulty dual pane windows in the dining area with low-E dual pane units, they found condensation between the two window panes, deterring the purpose of having dual panes units in the first place. Condensation occurs when a spacer fails to seal a dual pane unit air-tight, letting the hot and cold air travel inside the two window panes. It also allows noise to travel much easier, without decreasing its volume. After one week of waiting for the glass and eight hours of labor, each faulty dual pane window was replaced with bronze glass over low-E (solarban-60) glass. The manager has reported that customers have complimented on how much more they enjoy their dining experience. Customers do not feel the heat from the sun transmitted through the glass and burning their skin anymore. They also do not hear the cars driving by, despite they are less than 20 feet away from the main boulevard. And, not to mention, the unpleasant view of the condensation has vanished.
Another advantage of upgrading to low-E dual pane windows is that it can effectively decrease gas and electricity bills by up to 30%. That means that, over a short period of time, low-E dual pane windows will eventually pay for themselves. How great is that? And, by using less energy to heat or cool homes or business', fossil fuel burning is kept to a minimum, creating fewer greenhouse gas emissions. Can't get any smarter than that!
Home owners, business owners, and contractors cannot go wrong with upgrading to low-E dual pane units. And, with over 10 years experience in the glass trade, Star Glass San Diego is happy to help on any glass or mirror projects. Just pick up the phone and call (619) 246-1276. Calling Star Glass San Diego might be the smartest call anyone can make this year.
###