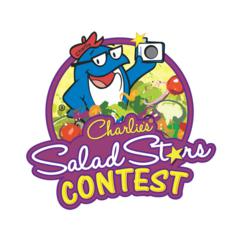 'Charlie's Salad Stars' contest is a chance to give fans a fun opportunity to be imaginative with their meals and share their creativity with our entire community.
Pittsburgh, PA (PRWEB) May 21, 2013
Just in time for National Salad Month this May, StarKist® is unveiling its first ever "Charlie's Salad Stars" Facebook contest, offering consumers a chance to win a trip to Los Angeles and have lunch with bestselling author and TV personality Hungry Girl Lisa Lillien. Beginning May 21st and continuing through June 18th, StarKist® is calling on all tuna lovers to join them on Facebook and submit a photo of their most original salad creation along with their favorite StarKist® Tuna Pouch for a chance to win.
"StarKist is always encouraging consumers to build their own recipes and discover new ways to enjoy tuna," said Mike Brookhart, Director of Marketing at StarKist. "This contest offers current and new fans of StarKist the opportunity to enjoy the versatility, convenience and taste of our range of tuna pouches. 'Charlie's Salad Stars' contest is a chance to give fans a fun opportunity to be imaginative with their meals and share their creativity with our entire community."
To enter for a chance to win, participants must simply:

"Like" the StarKist Facebook page at https://www.facebook.com/starkist
Create a salad using their favorite StarKist® Tuna Pouch
Snap a photo of the salad along with the pouch used
Complete the entry form and upload photo via the "Enter Now" tab on the "Charlie's® Salad Stars Contest" tab on our Facebook page
Submissions will be featured in a "Charlie's Salad Stars Showcase," and since StarKist always loves hearing about new tuna dishes, fans are free to come back each day and upload a different salad for more chances to win. Consumers are also encouraged to show off their salad star submissions via social media, using the hashtag #SaladStars.
Submissions will be evaluated on creativity, composition of photo and visual appeal, and the entry with the highest score will be named the potential grand prize winner. One lucky salad star entry will win a star-studded prize package of their own: a trip for two to Los Angeles and lunch with StarKist's right fin gal, Hungry Girl Lisa Lillien, at her spectacular new headquarters and test kitchen, HungryLand. Six first prize contest winners will also get a StarKist® prize pack including a signed copy of HUNGRY GIRL TO THE MAX!, The Ultimate Guilt-Free Cookbook, a Charlie® t-shirt, and one StarKist® Tuna Pouch per week for a year.
For additional contest details, prize descriptions, and restrictions and to submit your salad, "like" StarKist® on Facebook (http://www.Facebook.com/StarKist). Consumers can also download coupons, get prize information, see exclusive Hungry Girl photo tips and more. Be sure to follow us on Twitter (http://www.twitter.com/StarKistCharlie) and get salad inspiration by following StarKist® on Pinterest (http://www.Pinterest.com/StarKist).
About StarKist
StarKist Co. is a leading producer, distributor and marketer of shelf-stable seafood products in the United States. A category leader in innovation, StarKist was the first brand to introduce the StarKist Flavor Fresh Pouch®; StarKist Tuna Creations®, a line of lightly marinated tuna; and, a dolphin-safe policy. As America's favorite tuna, StarKist represents a 65-year tradition of quality, innovation and consumer trust and is well known for its charismatic brand icon, Charlie® the Tuna, who swam into the hearts of tuna fans in 1961 and is still a fan favorite today. StarKist Co. is a subsidiary of the Dongwon Group.
About Hungry Girl
Lisa Lillien (a.k.a. Hungry Girl) has turned her appetite for better-for-you food finds, recipes, and swaps into a multimedia phenomenon -- from a free daily email service with more than a million subscribers (hungry-girl.com) to a bestselling book series and a hit television show that airs on both Food Network and Cooking Channel. Her realistic approach to eating has shown hungry people everywhere that they can eat the foods they crave and still fit into their favorite jeans. Lisa is not a nutritionist, a dietitian, or a doctor. She's just hungry...
Contact: Michelle Faist, StarKist, 412-323-7457, michelle(dot)faist(at)starkist(dot)com