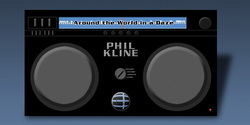 The #1 radio show for the Global Village
Boulder, CO (PRWEB) March 24, 2009
Leading new-music composer Phil Kline debuts a major work, Around the World in a Daze, on a new surround sound DVD released by Starkland. The 65-minute studio composition was commissioned by Starkland specifically for high-resolution surround sound and to premiere on DVD.
Read more about this Starkland surround sound DVD.
Kline is recognized as "one of America's most important compositional voices" (Philadelphia Inquirer). Reviewing Kline in concert, The New York Times wrote, "Magic was happening as you sat there. Here was a real original."
Kline's longest work, Daze is likely the largest work commissioned so far for a high-resolution surround-sound recording. Offered in a custom-designed package, this double-DVD release also features an Extras DVD, highlighted by a 34-minute interview with Kline. The two DVDs contain a total content of 110 minutes.
This formidable project is the brainchild of Starkland founder and one-man-army Tom Steenland. He states, "I love surround sound and think it's an exhilarating format for contemporary composers," adding, "Phil is a wonderful composer, and much of his music is inherently spatial. The idea of commissioning a major work from Phil to premiere on a surround sound recording was compelling and irresistible."
The Daze release is one of the most ambitious of Steenland's 30-year career producing new-music recordings. He mastered all the music (except one section) in both surround and stereo, edited the video interview, designed the 24-page booklet, and created the unique digipak.
Daze opens with the multi-channel ambiance near Kline's home in New York City's lower East Side, glides into an ethereal Ethel string quartet, peaks with a massive climax presenting hundreds of thousands of super-dense bells, shifts to the soaring violinistics of Todd Reynolds, and concludes with an immersive environment of 15,000 chattering, African gray parrots.
Along the way, listeners are also seduced by swirling, hypersampled Wagner, a weird madrigal about bitterness and bees, a Bach prelude eerily processed into a Zurich train station, and a mournfully multi-tracked "wailing wall."
In his Introduction, John Schaefer states, "Phil Kline's Around the World in a Daze is a landmark work" as well as a "wide-ranging, remarkable musical journey." He remarks that while composers such as Giovanni Gabrieli, Charles Ives, Pulitzer Prize-winner Henry Brant, and others wrote works that included spatial effects, Kline's Daze is different. "All of those earlier works responded to the acoustic properties and possibilities of natural or man-made spaces. Daze exists in a space that it creates for itself." Schaefer concludes, "what Phil Kline has done is unprecedented."
The main DVD offers Daze in several formats for various playback setups: standard-DVD Dolby Digital 5.1 Surround; higher quality DTS 5.1; highest-quality uncompressed DVD-Audio; and PCM stereo. Playback of the Daze music is accompanied by over 80 images shot by Kline.
This DVD emerges as a followup to Starkland's Immersion DVD-Audio, for which this adventurous Colorado-based label commissioned a wide-ranging group of cutting-edge new-music composers to create surround sound works. Once a #1 Best-Seller at Amazon, Immersion is now recognized as a groundbreaking recording that let listeners experience new music in high-resolution surround sound for the first time.
With this new Phil Kline release, Starkland has now commissioned over two hours of high-resolution surround-sound music from thirteen prominent new-music composers, a commitment likely unequaled by any other label.
About Phil Kline:
From vast boombox symphonies to chamber music and songs cycles, Phil Kline's work has been hailed for its originality and beauty. His compositions have been performed in rock clubs, art galleries, and major concert halls throughout the world.
Kline's Zippo Songs was one of the most widely hailed new music CDs of 2004. In addition to receiving news coverage by CNN, NPR, The London Guardian, and many others, the CD was named "Best of the Year" by The New York Times, Newsday, and Gramophone.
His signature boombox composition Unsilent Night debuted on the sidewalks of Greenwich Village in 1992 and is today a cult holiday tradition throughout the world. A public parade of hundreds of boomboxes carried through city streets during the Christmas season, it has been presented in cities like San Francisco, Philadelphia, Atlanta, Cleveland, San Diego, Boulder, Tallahassee, and Tucson, as well as Berlin, Turin, Middlesborough (UK), Sydney (Australia), Vancouver B.C., and Whitehorse in the Yukon Territory. Jon Pareles wrote in The New York Times: "It immerses a listener in suspended wonderment, as if time itself had paused within a string of jingling sleigh bells."
Raised in Akron, Ohio, Kline graduated from Columbia University with a degree in English Literature before embarking upon a musical career. A figure in the downtown New York rock scene in the 1980s, he founded the band the Del-Byzanteens with filmmaker Jim Jarmusch and painter James Nares, collaborated with photographer Nan Goldin on the soundtrack to her Ballad of Sexual Dependency, and toured the world as a veteran of Glenn Branca's legendary guitar ensemble.
About Daze Participants:
Bringing the string quartet into the 21st century, Ethel is part chamber ensemble and part rock group, playing avant-garde classical music with healthy doses of jazz and rock-influenced material, electronics, and improvisation. The Juilliard-trained, all-star foursome has collaborated with some of today's most exciting artists. They have recorded with pop musicians Joe Jackson, Todd Rundgren, and Rickie Lee Jones, experimental artists Dick Connette and Blue Gene Tyranny, and on film scores by Don Byron and Benny Wallace.
Todd Reynolds is one of today's preeminent new music fiddlers. He has appeared and/or recorded with such artists as Anthony Braxton, John Cale, Yo-Yo Ma, Graham Nash, Steve Reich, Marcus Roberts, and Todd Rundgren. Reynolds has commissioned and premiered countless numbers of new works by such composers as John King, Michael Gordon, Neil Rolnick, Julia Wolfe, David Lang, Evan Ziporyn, and Randall Wolff.
John Schaefer hosts WNYC's innovative music/talk show Soundcheck, and has produced the radio series New Sounds since 1982 ("The #1 radio show for the Global Village" - Billboard). He has written extensively about music, including the book New Sounds: A Listener's Guide to New Music.
Thomas Steenland owns the alternative classical label Starkland. He has produced premiere recordings of works from such contemporary composers as John Luther Adams, Tod Dockstader, Paul Dresher, Aaron Jay Kernis, Guy Klucevsek, Merzbow, Meredith Monk, Vincent Persichetti, George Rochberg, Morton Subotnick, Somei Satoh, Iannis Xenakis, Pamela Z, and John Zorn. Steenland's releases have been praised for their music content, sound quality, graphic design, and informative liner notes. The influential Sequenza21 website writes, "Props to our amigo Tom Steenland who has been producing great avant-garde recordings on his Starkland label from Boulder for many years now."
Simultaneous Cantaloupe CD:
At the same time, another major Kline work, John the Revelator, is being released on a new Cantaloupe Music CD (CA21047). This full-length 21st century mass also features the Ethel string quartet, along with renowned early music vocal ensemble, Lionheart. Kline's influences here include Renaissance music, Bruckner, The Beach Boys, and childhood memories of gospel blues. The New York Times wrote that this "offbeat but ultimately moving ceremony" suggested "the tonal richness of Barber, the austerity of Stravinsky, and the harmonic piquancy of Ligeti. In a rare joint effort, both Cantaloupe and Starkland are simultaneously promoting both of these Kline releases.
About Starkland:
The Starkland label releases compelling, engaging recordings of new, experimental, and alternative classical music.
Starkland's previous recordings have received over 160 favorable reviews, including those in The New York Times, Washington Post, Los Angeles Times, Billboard, Stereophile, Sound & Vision, Wired, Stereo Review, Village Voice, Alternative Press, Fanfare, England's The Wire, Canada's Musicworks, France's Revue & Corrigée Germany's Zillo, Japan's inTune, Italy's Rumore, and Spain's Margen. The label's releases have been featured on such national radio programs as NPR's All Things Considered and Weekend Edition.
Other Starkland composers include Charles Amirkhanian, Phillip Bimstein, Jay Cloidt, Tod Dockstader, Paul Dolden, Paul Dresher, William Duckworth, Robert Een, Fred Frith, Ellen Fullman, Lars Hollmer, Aaron Jay Kernis, Jerome Kitzke, Roger Kleier, Guy Klucevsek, Lukas Ligeti, Ingram Marshall, Merzbow, Meredith Monk, Bruce Odland, Pauline Oliveros, Maggi Payne, Somei Satoh, Carl Stone, Lois V Vierk, Pamela Z, and John Zorn. The Kronos Quartet, Turtle Island String Quartet, Paul Dresher Ensemble, Modern Mandolin Quartet, and Basso Bongo are some of the musicians on Starkland's CDs.
# # #