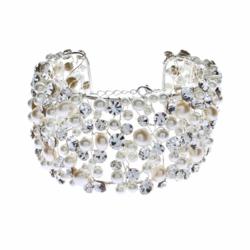 Becky's designs fuse fashion with timeless bridal elegance at a price point that acknowledges the financially challenging times we are living in.
(PRWEB UK) 29 March 2012
Disgraceful Grace make red carpet Starlet bridal glamour accessible to time starved UK brides this month by adding affordable luxury to their online wedding accessory collection. Building on their showcase international designer range launched last month from Justine M Couture, this e-boutique is expanding its contemporary elegance jewellery range to include British quality handmade headpieces and jewellery at mid range prices that will complement their existing offering.
The expansion of their bridal collection with designs from UK jewellery studio, Starlet Jewellery is an addition to the Disgraceful Grace offering for discerning brides with a prudent attitude towards their aspirations in these austere times, for brides seeking accessories that they can adorn well after the big event.
Working from her studio in Devon, Starlet Jewellery designer Rebecca Beasley describes her designs as "classic reflecting current trends that makes them wearable for special occasions after the wedding day and thereby reducing the cost per wear." Proprietor of this e-boutique Julia O'Hara, believes that Starlet's designs are a perfect fit for Disgraceful Grace, "Our e-boutique is a siren song for women with an elegant spirit and a passion for jewellery and accessories. We seek out versatile and classic pieces that complete the bridal ensemble and wherever possible will inject lustre, colour and texture into wardrobes well beyond the wedding day," says Julia. "Becky's designs fuse fashion with timeless elegance at a price point that acknowledges the financially challenging times we are living in," she adds.
The Disgraceful Grace wedding range includes classic jewellery designs for brides, their maids and their mums. Finishing touches include versatile shoe clips, handmade clutch bags, crystal encrusted dress sashes, vintage style side tiaras and on trend cuff style bracelets. Starlet bridal designs range from stud earrings around £20 to silver, pearl and crystal encrusted cuff bracelets and headpieces up to £125.