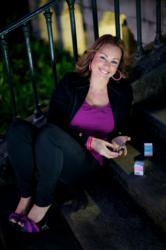 We were thrilled to be invited to include Starlettos in the the gift bags for Emmy® nominees
Sydney, Australia (PRWEB) September 21, 2011
In the four short years since Starlettos were conceived, they have gone from solving a single bride's need to find high heel protectors for grass, to gracing the red carpet at the Emmys®. In 2011 Starlettos were selected for inclusion in gift baskets for all major Emmy® nominees.
The 63rd Emmy® Awards, hosted by "Glee" star Jane Lynch, comprised around 100 categories, each with at least 5 nominees (some individuals, some teams). That Starlettos were selected as appropriate gifts for famous actors such as nominees Mariska Hargitay (Law&Order) and Kathy Bates (Harry's Law) was very exciting for the Starlettos team back in Australia.
"We were thrilled to be invited to include Starlettos in the the gift bags for Emmy® nominees," said Starlettos Founder, Ilde Naismith-Beeley. "Until now, Starlettos have been the darlings of brides wanting high heel protectors, and the fashion-conscious horse racing fraternity. Their appearance at the Emmys® really gives them red carpet acceptance".
Practical and Elegant Starlettos
Starlettos are shaped like a small flower cupping the bottom of high-heels. This stops heels sinking into lawns by increasing the size of the flat surface in contact with the ground.
They have been designed to prevent high heels sinking into grass at outdoor functions - which explains the wedding and horse racing connection. They have a designer look that sets them apart from the other cumbersome and unattractive high heel protectors for grass.
However, there are other practical reasons to use Starlettos, which those in the public eye, like actors, will appreciate.
"Starlettos have a non-slip base, which gives extra grip that helps to prevent slipping on polished surfaces, like wooden floors, stone, and polished concrete. They also prevent stiletto indentation damage to wooden and vinyl flooring." Ilde explained.
Starring Starlettos
Making their Hollywood debut at the 2011 Emmy® Awards, Starlettos are poised to blossom in this world of fashion and glamour, with their ability to keep the fashion appeal of even the most expensive Jimmy Choos.
For more information on Starlettos high heel protectors visit starlettos.com.au
About Starlettos
Australian-owned, Australian-designed, globally-loved.
Starlettos are high heel protectors with a focus on design. They are easily slipped on and off stilettos and high heels to prevent them from sinking into grass at high-fashion outdoor events. With the added benefit of a non-slip base they provide the wearer with red-carpet confidence.
Starlettos are the brainchild of Australian Ilde Naismith-Beeley, and were the result of her own desire to wear beautiful shoes at her outdoor, on grass, wedding. In the process of creating Starlettos, Ilde solved two other stiletto-wearing-bride dilemmas - instability on stairs and dance floors, and potential damage to the wedding dress.
The full Starlettos story is at http://www.starlettos.com.au
# # #