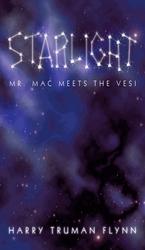 Follow me and don't be afraid. This is going to be the most exciting weekend of your life.
Tampa, FL (Vocus) November 17, 2010
George MacAllister is a high school science teacher living in Florida. One evening while on the beach, George is approached by a stranger who knows more about George than he should—his deceased wife's name, what he taught in class today, and the names of his pets. The man's name is Milo, and he reveals that he is an alien and is aware of George's doubt of the existence of alien life. Milo invites George on a tour of his facilities, miles underwater.
In Starlight: Mr. Mac Meets the Vesi (published by iUniverse) by Harry Truman Flynn, readers are introduced to the Vesi, a people who originated from a planet destroyed by a supernova and who took up residence on Earth hundreds of millions of years ago. They have been living on the surface as well as in their underwater facilities. They are an intelligence-driven culture, and George has been chosen for a special mission that will reveal to humankind the concerns the Vesi people have about the safety of Earth and its inhabitants. An excerpt from the book:
"The trip was interesting since I had no idea where we were or how deep...There were some sounds other than the water, but they were hard to explain. In just a few minutes, we were near the bottom, but just how deep, I couldn't tell...The vessel went inside, and the door closed. I heard the sound of air rushing in around the vessel and water leaving. It took about thirty seconds for the entire chamber to empty of water, and it looked completely dry. You could see the water level drop through the panels. Milo then said something like "Gedope, billig," but didn't know whom he was talking to.
Suddenly, the door of our craft opened, and Milo said, "Follow me and don't be afraid. This is going to be the most exciting weekend of your life."
Starlight: Mr. Mac Meets the Vesi has something for all readers: It will appeal to students who have a working knowledge of science. It will also appeal to those who may be interested in alternative theories of gravity, dark matter, dark energy and the workings of the atoms on a subatomic level. UFO enthusiasts will also like some of the explanations given for things like Roswell and UFOs in general.
About The Author:
Harry Truman Flynn was born and raised in the small town of Science Hill, Kentucky. As a child, he was always interested in science. He attended Eastern Kentucky University for a brief time before joining the Air Force. While in the Air Force he worked on air-to-air missiles and was stationed in Denver, Colorado and Aviano, Italy. Upon his discharge, he became a hardware specialist on large mainframe computers and lived in Lexington, KY; Frankfurt, Germany, and Tampa, FL. After 20 years, he tired of the travel, and returned to college. He graduated from the University of South Florida with teacher certifications in biology and chemistry. He taught high school biology and chemistry in Tampa, FL.
He and his wife Irene have two children, Michael and Erin.
iUniverse is a premier book publisher for emerging, self-published authors. For more information, please visit http://www.iuniverse.com.
###