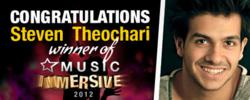 (PRWEB) August 04, 2012
After a gripping final round where a panel of industry judges evaluated the 25 finalists and 10 Wild Cards, a winner was chosen (drumroll)…
Steven Theochari
http://www.starnow.co.nz/competition/StarNow_Music_Immersive_2012/entry/668
As the competition winner, Steven will fly to Hollywood to take part in the world famous Music Immersive program and rub shoulders with the best in the biz. Good job, Steven!
Congratulations also go to the runners-up: Danica Hunter, who came second, wins a lifetime Full (paid) membership to StarNow, and Karolina Pasierbska, who came third, wins a five-year Full membership.
StarNow will be running more amazing talent searches later this year, making the most of its new and hugely popular competitions platform.
Web link: http://www.starnow.com/musicimmersive
About StarNow
StarNow (http://www.starnow.com) is the leading castings website for models, actors, musicians, and dancers. With over 2.3 million members worldwide, StarNow is building the biggest talent community on Earth.
About Lilly Dawson and Hollywood Immersive
Lilly Dawson is the founder and director of the exclusive entertainment program Hollywood Immersive, which trains, connects, and inspires performers. After focusing solely on actors for the first two years, Lilly has now expanded the Immersive brand to include singers and hosts.