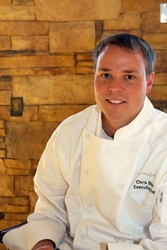 It is a dream for any chef to be welcomed into a resort kitchen that has such a strong commitment to sustainable, locally-grown produce, meats and other foods
Tucson, Ariz. (Vocus) October 21, 2009
JW Marriott Starr Pass Resort & Spa has stayed at the forefront of culinary excellence in Tucson since opening in 2005. Keeping with this fine tradition, the resort is proud to announce the addition of their new Executive Chef, Chris Brown.
"It is a dream for any chef to be welcomed into a resort kitchen that has such a strong commitment to sustainable, locally-grown produce, meats and other foods," says Chef Brown. "I am excited to blend my experience with the Southwestern flair here in the desert. I know it will be a perfect fit."
Brown's passion for food started at a young age, when he was his grandmother's official taste-tester. He brought that zest along with him when he signed up for his high school's culinary arts class. It was through this class that Brown realized he wanted to make a career out of cooking.
Brown graduated magna cum laude from Johnson & Wales Culinary School in South Carolina in 2001. During his four years in college, he worked as a chef at many local establishments, as well as at the four-star rated Chillingsworth Restaurant during summers in his hometown of Cape Cod, Massachusetts.
The summer of his final year at college presented Brown with the opportunity to work at the New York Marriott Marquis in Times Square, which began his now nine-year career with Marriott. Following, Brown served as the Executive Sous Chef at Grande Lakes JW Marriott in Orlando, where he was the youngest Executive Sous Chef in the company. Most recently, Brown served for three years as the Executive Banquet Chef at Marriott World Center Resort in Orlando, which operates largest banquet kitchen in the Marriott family.
Chef Brown now brings more than 13 years of major resort and hotel experience to the stunning Starr Pass property in Tucson. Brown looks forward to continuing the resort's fine culinary tradition and is anxious to bring his personal style to Starr Pass. He also looks forward to strengthening the partnership between Starr Pass and local growers.
For more information on JW Marriott Starr Pass Resort & Spa, please visit http://www.jwmarriottstarrpass.com.
About JW Marriott Starr Pass Resort & Spa
Having been named to Travel + Leisure World's Best Hotels Top 500 List two years running (2008, 2009), Starr Pass draws on the beauty of its mountainous location. The resort incorporates the natural desert as its landscape design theme. With 575 spacious guestrooms, 88,000 sq. ft. of meeting space, five restaurants, a 20,000 sq. ft. spa, four separate pools, a lazy river and water slide, the Audubon Certified Arnold Palmer Signature golf facility consisting of 27 holes and practice facilities, and 888 underground and covered parking spaces, the resort boasts of being not only the largest resort in southern Arizona but also the only true eco-resort in Tucson. This eco theme extends to its Primo restaurant that serves only organic and jet fresh fish, its Hashani Spa, which uses natural desert plant oils and its direct access to the Tucson Mountain Park for fabulous hiking and mountain biking trails. To quote Bill Marriott, "you can build all types of amenities but it would be impossible to duplicate what Starr Pass has, the Tucson Mountain Park." The JW Marriott Starr Pass Resort & Spa is located at 3800 W. Starr Pass and can be reached directly by calling (520) 792-3500. Please visit http://www.jwmarriottstarrpass.com.
CONTACT: Susanna Minegishi
McFadden/Gavender
O: 520-882-6262 M: 520-444-9223
Karen Gavender
McFadden/Gavender
O: 520-882-6262 M: 520-603-4200
###