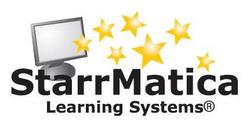 Clinton, IA (PRWEB) September 27, 2010
StarrMatica Learning Systems, a leading educational publisher of interactive content, has partnered with interactive technology company eInstruction to provide free interactive content to classrooms nationwide. eInstruction customers will receive a six month membership to StarrMatica's online library of interactive content with all new purchases of mobile interactive whiteboards, interactive dualboards, and student response systems. eInstruction customers using previously purchased technology, may receive a four month membership to the online library by attending a StarrMatica webinar highlighting strategies for integrating interactive content into classroom instruction. Educators using all brands of interactive technologies may take advantage of the webinar opportunity.
StarrMatica's online library includes over 3,800 K-6 reading and math simulations, animations, activities, games and assessments along with an easy to use search engine to find content by grade, topic, state standard, national core curriculum, and textbook curriculums. StarrMatica is the only comprehensive interactive content library currently available that combines Flash animations and activities written by current classrooms teachers with a database of hand selected interactive content from the web.
"As a company of teachers, we understand it can be difficult and time consuming to use interactive technologies effectively every day," said Emily Starr, StarrMatica's CEO. "We are thrilled to partner with eInstruction to provide our colleagues with standards-aligned interactive content so they can easily use technology to engage their students."
New eInstruction technology purchasers can visit http://www.starrmatica.com/einstruction to redeem their six month membership. Current interactive technology users can sign up for a four month membership webinar at http://www.starrmatica.com/professionaldevelopment
About StarrMatica
StarrMatica is a Prometheus award winning educational publishing company owned and operated by teachers on a mission to help fellow educators transform their classrooms with technology. The company provides member schools cutting edge teaching tools via access to over 3,800 interactive resources for K-6th grade housed in an easily searchable online library. StarrMatica's standards-aligned content is used by teachers for whole class instruction with interactive technologies and by students on computers at school and at home. StarrMatica is used on every brand of interactive technology by thousands of teachers and students every day.
To learn more about StarrMatica, please visit http://www.starrmatica.com. For media inquiries, please contact Emily Starr at 563-219-2111 or emilystarr(at)starrmatica(dot)com.
About eInstruction®
eInstruction is a leading education technology company dedicated to providing interactive teaching and learning technology and services that help educators drive academic progress every day, and give administrators the ability to monitor, aggregate, and analyze student performance data. The company offers educators and administrators a family of software, interactive whiteboards, interactive dualboards, student response systems, and powerful enterprise-based administrator tools.
eInstruction's research-based solutions have been shown to increase student engagement and achievement while providing real-time feedback and performance data to educators and administrators.
Millions of students, teachers, and professors use eInstruction® technology in 500,000 K-12 classrooms and more than 1,000 higher education institutions around the world. Available in more than 40 languages, eInstruction® technology is enhancing education in over 90 countries worldwide.
eInstruction has offices in Denton, TX; Columbia, MD; Scottsdale, AZ; Cincinnati, OH; and Paris, France.
To learn more about eInstruction, please visit http://www.einstruction.com. For media inquiries, please contact Julie McKinney at Stanton Communications at (410) 727-6855 or jmckinney(at)stantoncomm(dot)com.
# # #