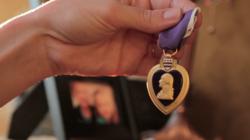 I have so much love and respect for the brave men and women of the United States Armed Forces. Their families are equally brave and sacrifice so much to keep us free.
Roseland, NJ (PRWEB) July 09, 2012
The Salt Flats of Utah were used to portray the deserts of Afghanistan as they served as the backdrop in Nathan Osmond's new patriotic Country music video,"Stars & Stripes". The scene was set among a small field of American Flags provided by Annin Flagmakers to wrap the singer in his words.
Osmond was inspired to write the song when he met several marines last year in Hawaii. They challenged him to write a song about them and said that Country music listeners would embrace it. Osmond took them up on their challenge and co-wrote the song with Scottish hit-songwriter, Marwenna Diame. "I have so much love and respect for the brave men and women of the United States Armed Forces. Their families are equally brave and sacrifice so much to keep us free," said Osmond. The song paints the military in the noblest light possible and tugs at the hearts of all Americans. As the chorus states, "It's an honor fighting for the Stars & Stripes." Nathan's father (pop singer, Alan Osmond) and grandfather (George Osmond) both served in the military.
Nathan contacted Annin Flagmakers directly because it was important for him to have his video feature the flags that have been made in this country since 1847. "Nathan advised us that it would mean so much to the essence of the video and message of the song to have the American Flags in the background" states Mary Repke, vice president of marketing for Annin. States Repke, "after hearing the song, we are confident that this song will become a memorable tribute song that we will hear every 4th of July and at major events that pay homage to our service men and women and their families."
Brandon Beckham of Revolution Media is the Director and has been working closely with Utah military families on the production. "Today, more than ever, America needs music and media that inspires and connects us to those who give the ultimate sacrifice for our nation." He continued saying, "We will emotionally depict that patriotic sentiment of Nathan's song."
The video does not feature actors but real soldiers from Utah and their families. It depicts real-life accounts from the deployments of one particular Utah marine, Robert Iverson who was awarded the honorable Purple Heart when his tank was attacked. "We are grateful to Nathan Osmond for his new song, which refocuses public attention on those who serve, the families left behind, and the sacrifice associated with service to the nation," said Krista Iverson, wife of Robert Iverson who also stars in the video. She continued saying, "As the nation has become increasingly war-weary over the past few years, the subject of the nation's warriors and their families, along with the risks and personal costs associated with their efforts, has faded from the public stage." Bob Caggiano, vice president of commercial sales at Annin Flagmakers states "over the years our flags have flown over the White House and on foreign fields of battle including the current day battlefields of Afghanistan and Iraq- we are honored to have a small role in timely song and video so we can show our support and pay tribute to our troops, their families and the service they provide at home and abroad."
Osmond thanked the Executive Producer Rick Priddis and Priddis Music Company and sponsor Annin Flagmakers for making this video possible. Rick Priddis, president of Priddis Music Company said, "I am excited to have the opportunity to work with Nathan Osmond on this project!" He continued saying, "Members of my family have served in the military and some are currently serving. This cause is very important to me."
About Annin Flagmakers- an American corporation (http://www.annin.com) based in Roseland, New Jersey. The flag maker was founded by Alexander Annin in 1847 and incorporated on January 10, 1910. Annin Flagmakers produces American flags, state flags and national flags of all United Nations members. Annin is a manufacturer that sells through a network of independent dealers and through mass market retailing chains. Annin is a privately held company owned by the Beard and Dennis families. Annin is a founding member of the Flag Manufacturers Association of America (FMAA), a non-profit trade association, dedicated to educating and promoting the quality, variety and proper use of flags manufactured in the United States.
For more information on Nathan Osmond and the 'Stars and Stripes' song and video, please contact publicist Dana Robinson, Mr. Media at 801-427-5852 or dana.mrmedia(at)gmail(dot)com.