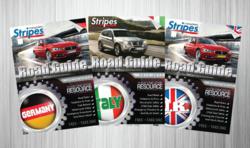 [Stripes Road Guides are] really helpful for drivers new to Europe who want to learn the rules and regulations.
Kaiserslautern, Germany (PRWEB) July 30, 2012
Stars and Stripes, a multimedia news organization that provides independent news and information to the U.S. military community, published its annual Road Guide featuring essential information for U.S. service members and civilians stationed at U.S. military bases in Europe.
"The Road Guides are extremely popular," said Kathryn Peterson, Multimedia Advertising Manager for Stars and Stripes Europe. "The guides are distributed through the newspaper as well as military in-processing centers, AAFES car care centers, motor vehicle registration stations, and family support centers, to name a few. Print copies of the Road Guides are also available online at StripesStore.com.
"It's really helpful for drivers new to Europe who want to learn about the rules and regulations," Peterson commented. "The handy booklets are loaded with useful information, and the size is designed to be kept on hand in the glove box for easy access during casual travel or emergency situations."
Stripes Road Guides feature:
Road Rules to keep drivers safe in any country
AFN Radio frequencies
European Union traffic fine charts
Where to find fuel ration locations in Germany
How to avoid speed traps in Italy
Emergency numbers to help drivers stay safe on the road
GPS coordinates for easy navigation to U.S. military installations
Handy reference charts to make European conversions a snap
Foreign phrases to help you get back on the road without anything getting lost in translation
Stripes Road Guide is a one-stop shop for those on-the-go. The print edition and online portal at stripes.com features the helpful information you need to go to get you going. Print copies are also available at the Stripes Store.
See where the road takes you with Stripes Road Guides.
Stars and Stripes reports on military matters as the only independent source for news and information operating inside the U.S. Department of Defense that serves the global U.S. military community. Editorially independent of any outside interference and influence, Stars and Stripes provides commercially available U.S. and world news and objective, factual staff-produced stories relevant to the military community it serves.