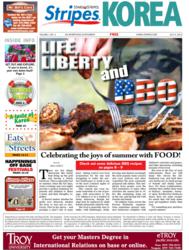 "Finally! I have been here for eight years, and there's finally something like [Stripes KOREA]!"
Seoul, South Korea (PRWEB) July 19, 2012
Being assigned to Korea brings a host of problems to solve and adjustments to make for military families—as well as the excitement and challenge of learning to navigate a new country and culture.
The new Stripes KOREA community website and publication from Stars and Stripes provides the useful local information the U.S. military serving on the peninsula needs most, online at korea.stripes.com. The website also makes available the digital version of the print publication Stripes KOREA.
Reaction to the new Stripes KOREA website and publication has been uniformly positive. Almost everyone polled in a recent visit to the peninsula by staffers felt there was a great need for the information provided on the site and expressed an interest in the publication.
Content provided on the site includes military base information, reader-submitted reviews of restaurants, news, travel information, classified ads, and a regular "Survival Guide" feature for newcomers.
Stars and Stripes updates the Stripes KOREA site regularly; the free print publication appears every second Thursday. The next issue will appear on July 19, 2012.
_________________
Stars and Stripes reports on military matters as the only independent source for news and information operating inside the U.S. Department of Defense that serves the global U.S. military community. Editorially independent of any outside interference and influence, Stars and Stripes provides commercially available U.S. and world news and objective, factual staff-produced stories relevant to the military community it serves.
In addition to providing news in print, Stars and Stripes offers its unique reporting on stripes.com and through the Stars and Stripes iPhone App, now available on the App Store.