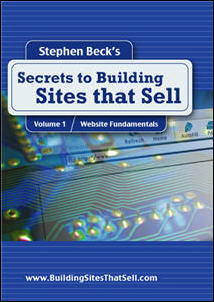 It is like looking over my shoulder while I build a web site...and then taking home a recording of it
Moscow, ID (PRWEB) November 8, 2006
It all started when Stephen walked away from a six-figure income in the construction industry to attend seminary. "I knew I needed a way to make a living... and I needed it fast," says Stephen. "I heard that the Internet was the best way to start profitable home based businesses, so I wrote down every step of the way, using simple techniques and predictable processes that anyone can follow to start your own internet businesses. Then, I made a video of each one of those steps using screen capture video."
Screen capture video turned out to be the key. This type of video captures an instructor's computer screen, his mouse movements and his voice to make difficult concepts easy to understand. "It is like looking over my shoulder while I build a web site...and then taking home a recording of it," says Stephen.
Stephen Beck, President of FamilyEbiz.com, will launch his new course, Secrets to Building Sites That Sell, today that teaches families how to start online home businesses ... even if they have no computer experience at all. Stephen claims that if a person can type in a word processor and check their email, they can start a profitable online business.
The multi-media course, Secrets to Building Sites That Sell, includes screen capture videos, audios and transcripts. The course not only demonstrates how to build a web site, but also how to choose products to sell and how to attract visitors to the new web site.
"I knew my family and friends could not afford all of the software programs necessary to start a profitable home based Internet business. And I also knew they did not have time to learn from scratch like I had to do. So I created the videos using free downloadable software found on the Internet. If I could save families from having to buy all this expensive software and save them countless hours learning how to use it, I knew that it would be an immense blessing to them!"
Stephen Beck is the nation's leading expert on teaching families how to start their own businesses on the Internet. He is President of Stephen Beck helps families build profitable online businesses through his website, FamilyEbiz.com and is the author of A Father's Stew. He encourages families to gain freedom through online business to invest in a purpose greater than themselves. His free videos are available at Secrets to Building Sites that Sell.
Contact:
Stephen Beck
FamilyEbiz.com
979-777-3333 or 208-882-2477
###