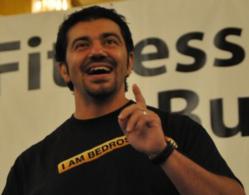 Boot camps allow for personal trainers to train more people in less time without compromising any of their client's workouts.
Chino Hills, CA (PRWEB) May 06, 2013
Bedros Keuilian knows all too well the struggles that personal trainers go through when they are starting a fitness boot camp business or opening a personal training studio. There are so many things to remember and prepare for that it can become too stressful or overwhelming for those who are new to the fitness business industry.
That's how Keuilian came up with the idea to help personal trainers who lack a business education background to confidently open and run a fitness boot camp or personal training center and profit. Fitness Studio Formula is a collection of Keuilian's best kept fitness marketing secrets and business advice that help personal trainers with the entrepreneurial mindset get a head start and highly profit off their own fitness business.
Fitness Studio Formula teaches personal trainer the steps it takes to open, dominate their market, and earn six or seven figures with their fitness business. Available now at PTPower.com, Fitness Studio Formula is an actual formula for opening a personal training business and includes a collection of business, marketing, and legal courses that teach personal trainers everything they need to know to start earning high profits with their own personal training studio or fitness boot camp.
Since fitness boot camps have become so popular in recent years, Keuilian urges those who are wanting to start a personal training business to consider boot camps before opening up a one-on-one personal training studio if they're wanting big profits. "The reason that personal trainers should consider opening a fitness boot camp business over a one-on-one personal training studio is because they allow for personal trainers to charge less and earn more by training a lot more people in less time, all while delivering the results that the clients want" explains Keuilian.
"I added $172,800 to my facility's annual revenue" says Joshua Carter, personal training expert behind the highly successful Carter Fitness. Because the program is complete with "done-for-you" marketing material, sales scripts, and presentations, Fitness Studio Formula is a fool-proof blueprint for personal trainers to start a wildly successful personal training studio.
To find out more about Bedros Keuilian, his company PTPower.com and the Fitness Boot Camp Franchise Fit Body Boot Camp, contact Bedros Keuilian at (800) 261-0208. Alternatively, you may use the contact form at http://ptpower.com/contact-me/ or send an email to Bedros Keuilian at support(at)keuilian(dot)com.