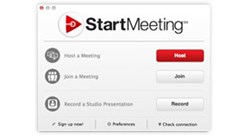 StartMeeting is the most advanced video and audio conferencing solution that regular businesses can actually afford to use.
Sandy, UT (PRWEB) May 30, 2013
Telarus, distributor of commercial data, voice, and cloud solutions, today announced that it has signed an agreement with StartMeeting, provider of video and audio conferencing solutions. The agreement paves the way for 1,200 independent telecommunications and managed services agencies to source StartMeeting's industry-leading conferencing solutions through Telarus.
"As a long-time admirer of Telarus' agent following and stellar reputation in the channel, I am excited to work closely with their management team to enhance their agent's product offering to include high definition audio and web conferencing," commented Greg Plum, VP of Channel Development for StartMeeting. "StartMeeting represents the best of the collaboration services available today. We think that our products will be a perfect fit for the large segment of end-user businesses who don't want to pay thousands of dollars for a 100+ seat reservation-less video conference."
StartMeeting has created and owns proprietary technology which allows audiences of 1 to 1000 to collaborate in real time via the phone, Internet, or both.
"We are excited to be working with StartMeeting, not just because of their easy-to-use conferencing solution, but because of the people who support it," added Lanny Gray, VP of Business Development for Telarus. "Our partners are very excited to be able to set up free StartMeeting accounts for their clients, and then watch them grow over time. There is little-to-no risk to get started, with unlimited up-side once the end-user feels comfortable with StartMeeting and starts to ramp up paid usage. It's a perfect formula."
StartMeeting will make its official debut to Telarus Channel at the annual Telarus Partner Summit in Park City, Utah on June 18, 2013.
About Telarus
Telarus, Inc., a value added distributor that holds contracts with the world's leading commercial telecommunication carriers, makes it easier and more profitable for solution providers, VARs, and MSPs to sell and source voice and data WAN solutions, including metro Ethernet service and Ethernet Internet service. Our patented GeoQuote platform combines real-time carrier pricing with advanced research features and branded proposals. Telarus' experienced Sales staff is strategically focused on enterprise WAN and high-capacity bandwidth solutions, making it easier to find the best offer, every time. For its part, Telarus has been named the top Master Agent by the members of the Telecom Association in each of the past three years, the first and only company in the carrier channel to accomplish this feat. Whether you are a top producer or a voice-and-data expert just starting out on your own, there is a place for you in the Telarus community. For more information on the Telarus partner program, please visit telarus.com or call the new partner hotline at 877-346-3232.