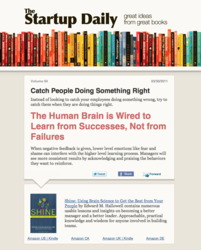 Great Ideas from Great Business Books
(PRWEB) May 24, 2011
The Startup Daily features a single idea, tip, or insight taken from the best books for entrepreneurs and startups each day. The Startup Daily is delivered in a short, concise email that can be read in about a minute. Ideas are chosen from the best business books, on topics such as marketing, management, leadership, innovation, creativity and productivity.
Since launching on January 1, 2011, the Startup Daily has delivered a unique insight each weekday. On May 19, the 100th volume was delivered to over 6,500 email subscribers worldwide. To celebrate this milestone, the Startup Daily is giving away an Amazon Kindle 3G. To enter, just "like" the Startup Daily on Facebook. The winner will be announced on June 1. Details of this contest are available at http://thestartupdaily.com/kindlegiveaway/ .
About the Startup Daily:
The Startup Daily was founded by Karl Krantz, a self described "business book junkie." The mission of the Startup Daily is to share the lessons and ideas of the greatest entrepreneurs and thought leaders, and to provide a curated roadmap for those seeking knowledge among the thousands of business books released each year.
# # #