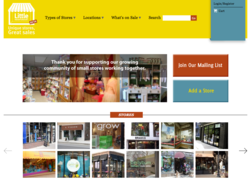 As we approach our one year anniversary I can say I'm really proud of the growth we've seen but I want to make sure we grow both bigger and better.
Chicago, IL (PRWEB) May 30, 2012
"As we approach our one year anniversary I can say I'm really proud of the growth we've seen but I want to make sure we grow both bigger and better," says Lesley Tweedie, founder of Little Independent. "We've been working to add and improve features so that we can more effectively deliver on our goals of helping retailers sell slow turning items and helping shoppers to find great independent stores and discounted merchandise online."
It was discounted merchandise that inspired the idea for the site. Tweedie had a bike helmet in her shop, Roscoe Village Bikes in Chicago, which just wouldn't sell at full price. She reduced the price, displayed the item at the neighborhood sidewalk sale and reduced the price again. Still the helmet didn't sell. Tweedie knew that although her regular customers had passed on the item, someone would be happy to have it especially at a discounted price. She wished there was an easier way to reach that shopper while also promoting her store and independent retail in general.
The website for Little Independent needed to allow shopkeepers to create a profile for their store and then easily upload sale item listings. It needed to be easy for shoppers to find and purchase those items. It took several months for the site to be functional but last June it launched and it has been growing ever since.
There are more than 250 items offered for sale on the site. Not everything can be purchased through the shopping cart on Little Independent. The store that lists the item decides whether to offer it in store, over the phone, through their store's website, through the "add to cart" on the site or all four options.
"We really wanted to site to work for a range of stores. The main idea is to allow retailers to shine a spotlight on slow-turning merchandise and sell it more quickly," says Tweedie.
Retailers are pleased with the site. "Thanks so much for putting together Little Independent! Think it's a great concept, and I hope to see it grow and grow," said Linda Schmidt, owner of Owner, Cat and Mouse Game Store in Chicago.
Growth is the plan. There are over 7,5000 bike shops and toy stores and 10,000 other independent shops in the US so 75 stores is just the beginning. The goal for the coming year is to continue to add stores and sale item content, to further improve the site and to enhance marketing efforts to reach more shoppers.
About:
Founded in 2010, Little Independent is a Chicago-based online marketplace for sale items at independent retail stores. Its mission is to be an advocate for independent retailers and to give savvy shoppers an easier way to find great independent stores and sale merchandise. To shop or sell, please visit http://www.littleindependent.com.