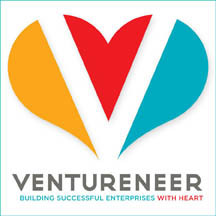 New York, NY (Vocus) September 14, 2009
Every dark cloud has a silver lining. Even when it is a storm cloud of epic proportions like the recession from which we're now emerging.
For those shaking in their boots about starting a small business when the economy hasn't fully righted itself, three reasons are provided. Once your fears are quelled, questions emerge - Do I entrepreneurial potential? How do I find and develop an idea? Do I need a business plans?
Ventureneer assists would be entrepreneurs by providing three, free, one-hour classes taught by its founder, serial entrepreneur, adjunct professor, and mentor Geri Stengel to help wannabe entrepreneurs assess this. The sessions can be taken singly or as a series, and will be offered on September 21st, 23rd and 24th (from 2pm to 3pm EDT each day) at Ventureneer.com. The session will also be available on demand.
What makes it possible for startup companies to launch as the tide is turning?
Less to lose. People are still being laid off while others continue to have a hard time finding a job. These necessity entrepreneurs are not giving up the safety of a regular paycheck and benefits. They are surviving!
During downturns, the marketplace changes more quickly and dramatically. When change happens, opportunities present themselves to those who know where to look and can be flexible to exploit market conditions. Large companies tend to be slower to respond than small and midsized enterprises, due to layers of approval. Think elephants vs. gazelles.
Companies have been weakened and some have even gone out of business, which creates an open space for smarter, more resourceful players.
Customers are more likely to re-evaluate their brand loyalties as they seek less expensive alternatives.
Entrepreneurship is not for everyone. To help aspiring entrepreneurs assess their potential, Ventureneer.com is offering a free webinar on September 21, 2009, 2-3pm ET to help participants uncover the personal characteristics essential for entrepreneurial success, and shows them how to maximize their abilities. Participants also learn how to fortify themselves for the hard work of starting up a business. Knowing what to expect improves the chance for success. Attend on the 21st to ask questions or view it after on demand.
Talent, supplies and infrastructure become more affordable. Not just because people have been laid off but because, in light of large corporation vulnerability, they may be more willing to take a chance on joining a startup. Some small company vendors and freelancers may become more flexible on payment.
Some goods and services become more cost effective. Overall, many products and services become more affordable as the market price waivers and vendors find it necessary to slash profit margins. Prices for office space have dropped around the country. Startup entrepreneurs may be able to buy used office products on the cheap such as office furniture. Vendors may be more willing to negotiate better terms. In fact, some vendors may be willing to barter services or take a percentage of the company in exchange for the providing the products and services you need to get started. Other vendors recognizing that startups are their future big customer also may be more flexible on terms.
Unsettled times bring out the best in entrepreneurs - creative problem-solving, healthy deliberation about spending, strength and perseverance. It also forces entrepreneurs to scrutinize their ideas. Entrepreneurs need to look long and hard at their business ideas before moving forward. A recession forces a keener evaluation.
Do Startups Need a Business Plan? tells participants why they need a business plan; where to find the information needed; and how to do one. Attend on September 24th, 2009, 2-3pm ET and have the ability to ask questions. Or, view it on demand after the 24th.
Get a leg up. The skills that you learn by starting in lean times makes your company stronger when economic health returns. Being creative and resourceful are skills that never fall out of favor.
Starting a business is about strong well-thought-out ideation, thorough understanding of your markets, timing and seeing a great opportunity when it hits you in the face. What might seem out of reach for one person is reachable for another.
However, not everyone has an idea for a small business. Developing an Idea for a Startup Business takes participants who don't have an idea for a specific business but know they want to start something through the process of developing a concept they can be passionate about. View it live on September 23rd, 2009, 2-3pm ET. Or on demand after that.
To learn more about other webinars, visit http://www.ventureneer.com/webinars .
About Geri Stengel
Geri is founder of Ventureneer, an online education and peer support service. An adjunct professor at The New School, she honed her online experience at companies like Dow Jones and Physicians' Online. Geri co-founded the Women's Leadership exchange and is president of Stengel Solutions, a consulting service for social-impact organizations.
About Ventureneer
Ventureneer is a new approach to learning: a blend of traditional, formal instruction with informal, peer learning using Web 2.0 technology to capture and share knowledge. Ventureneer's customized blogs, virtual classes, peer-to-peer learning, coaching, web events and articles help entrepreneurs make faster, better decisions for their enterprises.
# # #