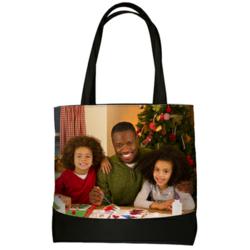 With the Christmas holiday just around the corner, there is no better time to visit Picture That Bag.
St. Peters, Missouri (PRWEB) November 27, 2012
Finding unique and personalized Christmas gifts can be incredibly difficult, especially as time begins to dwindle as the holiday approaches. Picture That Bag was launched recently to give shoppers the ability to purchase custom bags featuring personal photographic images. These custom, printed bags allow people to carry their personal items safely, securely and fashionably.
A custom picture bag from Picture That Bag is an ideal gift for many women. For everyday use, the company offers the Custom Classic Handbag. This durable and stylish bag is great for busy women who want to show off their personal style. Picture That Bag also offers tote bag options. With a custom photo tote, a woman can carry everything she needs throughout the day while showing off beautiful images of her family, her favorite pets or virtually anything else that has been captured photographically.
Christmas shoppers can also find products like a custom photo clutch and a men's leather photo wallet on the Picture That Bag website. Additionally, a custom wristlet is available for those who want to show off the images of their lives while they are out for a night on the town. All of the company's products are made using high-quality materials, and they are designed to withstand the rigors of regular use.
With the Christmas holiday just around the corner, there is no better time to visit Picture That Bag. Cyber Week is the perfect time to shop on the website, and those who purchase their bags now can expect to receive them in plenty of time for holiday gift giving. Shopping for Christmas gifts can be stressful, but those who are still looking for the right gifts can find what they are looking for at Picture That Bag. The site allows people to capture their favorite moments so they can be used to adorn wonderful items that can be used every day. Consumers who want to save money while purchasing their products are encouraged to visit the company's Facebook page, as well, to find the free discount coupon which is available now.
About Picture That Bag
Picture That Bag is a website launched by Fierce & Fabulous to give consumers the opportunity to purchase bags that feature images from their own photos. The company uses supplied photos to create unique and functional products made using high-quality materials. Picture That Bag is committed to helping people share and display their favorite images through lovingly-crafted products. Additionally, the company is dedicated to giving back to the community through charitable donations.
Contact Information
Interested parties can visit the Picture That Bag website at http://www.picturethatbag.com. The company can also be reached by phone by calling 888-377-8205, or through fax at 888-377-8205. Email inquiries can be sent to customerservice(at)picturethatbag(dot)com