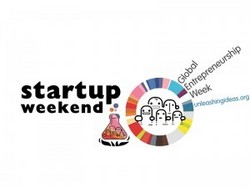 This is the third Startup Weekend Dallas since 2009, and with each event we see growth in attendance and the emergence of new businesses as a result
Dallas, TX (Vocus) October 12, 2010
Startup Weekend and Big in Japan today announced that Startup Weekend Dallas, a 54-hour event that provides networking, resources and incentives to help aspiring technology entrepreneurs go from idea to launch, will take place Nov. 12-14 at Big in Japan's new offices at Campbell Centre.
"This is the third Startup Weekend Dallas since 2009, and with each event we see growth in attendance and the emergence of new businesses as a result," said Marc Nager of Startup Weekend, a Seattle-based non-profit that has organized events in cities worldwide. "This speaks to the energy and quality of the Dallas startup scene."
"Big in Japan and Architel have been working to create networking and learning opportunities for Dallas entrepreneurs for years, and partnering with Startup Weekend is a great boost to these efforts," said Alexander Muse, Big in Japan co-founder.
Muse, along with Architel CEO Scott Ryan, also sponsor Dallas Startup Happy Hour, which will have its next get-together at Campbell Centre Oct. 27.
Startup Weekend Dallas will open with a presentation of new ideas for startup ventures. Participants then choose their favorite ideas and form teams around them. The teams spend the weekend getting advice from professional mentors and building a proof of concept, demo -- and sometimes even a finished product. Most ideas are Web and tech-focused.
Tickets to participate in Startup Weekend Dallas can be purchased at dallas.startupweekend.org/tickets. For more information about Startup Weekend Dallas, including sponsorship opportunities, visit dallas.startupweekend.org.
About Startup Weekend
A non-profit organization based out of Seattle, Wash., Startup Weekend's primary mission is to provide unparalleled experiential education opportunities for aspiring entrepreneurs around the globe. Its model is event-based, community-focused, interactive and results-driven entrepreneurial development. As a result, Startup Weekend has become one of the leading catalysts for startup creation and entrepreneurship education in startup ecosystems around the world. Startup Weekend is currently represented in over 100 cities in more than 25 countries. Learn more at http://startupweekend.org.
About Big in Japan
Big in Japan Inc. is the leader in barcode-powered shopping by mobile consumers, with more than 6.5 million users generating 50 million product scans per month through the company's ShopSavvy® application and the applications of third-party licensees such as CNET and PriceGrabber. Big in Japan's UPC/GPS mobile advertising framework reaches consumers at the point of highest purchase intent, sharing promotions, coupons and other relevant information about scanned products. Big in Japan maintains one of the largest price comparison engines for local and online retailers, with links to the pricing and inventory systems of 20,000+ retailers worldwide. Big in Japan is funded and incubated by Architel, a Dallas-based managed services provider. For more information, visit http://www.biggu.com.
###