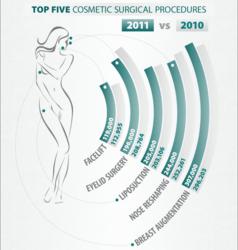 In 2011 we have enjoyed the most innovative non surgical advances in the recent past. This has included non surgical lifts with Ultherapy as well as non surgical fat reduction by Coolsculpting
New York City, NY (PRWEB) April 24, 2012
In 2011, Americans visited their medical aestheticians more often than ever. According to the latest report by the American Society of Plastic Surgeons, released earlier this year, nearly 14 million cosmetic procedures have been performed last year, spending more than $10 billion in the process.
There is an evident rise in all three major categories: common plastic surgery procedures, reconstructive surgeries and the minimally invasive cosmetic procedures such as botox injections and laser peels.
The most popular plastic surgery procedure is breast augmentation with more than 300.000 operations in 2011. Interestingly, facelifts are back in the top five surgical procedures, after being replaced by the tummy tuck in 2005.
The overall growth in cosmetic procedures, however, seems to be primarily driven by significant growth in minimally-invasive procedures. Injections of Botulinum Toxin Type A (commonly known by the brand names Botox and Dysport), have almost become a daily cosmetic routine for some Americans.
According to Dr. Kevin Tehrani, a New York plastic surgeon, founder of Aristocrat Plastic Surgery & MedSpa "In 2011 we have enjoyed the most innovative non surgical advances in the recent past. This has included non surgical lifts with Ultherapy as well as non surgical fat reduction by Coolsculpting".
There have been 5.7 million procedures of this kind last year, a 5% increase from 2010.
As active members of the American Society of Plastic Surgeons, the team of Aristocrat Plastic Surgery & MedSpa has produced a simple infographic 'State of the Plastic Surgery', illustrating the most popular cosmetic procedures of the past year.
To see the full infographic, please visit http://www.AristocratPS.com/state-of-plastic-surgery/