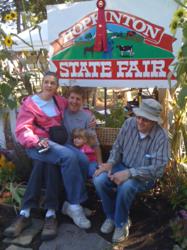 We have gathered the dates and locations for 45 state fairs being held in 2012.
(PRWEB) April 28, 2012
WeGoPlaces Tourism, LLC has created a page on their travel website to include 2012 U.S. State Fairs dates and locations. State fairs are popular from February through October and have provided annual entertainment for millions of people.
"We have gathered the dates and locations for 45 state fairs being held in 2012," said Jeff Smith, President of WeGoPlaces Tourism, LLC. "We've done all of the work, so visitors can have all of the fun!"
Because of the popularity of State Fairs, travelers often book their travel plans around their trip to the state fair. With so many events going on in one location, state fairs have enough to do to please people from all walks of life. They are well known for cowboy/girl events such as Steer wrestling, saddle bronc riding, bull riding, team roping, tie down roping and bareback riding. Live entertainment, from musicians to motorcycle stunts, tractor pulls and magicians make the schedule exciting.
Food is also a big draw, and visitors can find vendors selling everything from buffalo jerky to steak bombs and fried pickles. Midway rides and games bring the traditional sights and sounds of people of all ages enjoying themselves. It's a perfect place for farmers to show off their livestock, fowl, swine, sheep and other small animals to exhibit for ribbons and prizes. Home grown fruits, vegetables, homemade pastries, canned goods, and home crafts are also very popular exhibits.
About WeGoPlaces Tourism, LLC:
WeGoPlaces.com is an all-inclusive travel planning website that specializes in tourism within the United States and Canada. The website provides free listings to tourism businesses and event organizers and also provides a free information request service for visitor bureaus. Their goal is to get enough tourist information to spotlight every region in the US, as well as Canada.