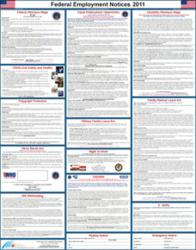 Must have a Federal Labor Poster somewhere in the work area.
Los Angeles, Calfornia (PRWEB) September 30, 2011
Federal Labor Law Posters managements require employers to post notice of labor laws in appropriate locations with general access for employees and/or applicants for employment. It should include an updated list of mandatory Federal and State labor laws that must be posted where employees can notice them in the normal course of business hours. Please confirm that these notices are posted in areas used by employees, such as lobby areas, break rooms, and bulletin boards designated for this purpose.
Failure to post this information may result in Federal or State penalties for non-compliance. The poster is designed to help employers comply with the poster requirements of several laws administered by the Department of Labor. These laws require employers to display official Department posters where employees can readily observe them. Department of Labor provides the posters at no cost to employers.
###