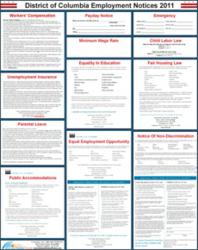 District of Columbia lists the requirements of the valid reasons for the employees for them to have a paid leave.
District of Columbia (PRWEB) July 27, 2011
The District of Columbia labor law poster created a new poster referring to the Accrued Sick and Safe Leave Act. The Accrued Sick and Safe Leave Act requires the employers to provide a paid leave for employees for valid reasons.
This new poster gives information about eligibility requirements for employees according to the new law. It also includes the specific reasons to leave, and also the employee rights and benefits. The amount of time that the employee gets to leave varies depending on the size of the employer. Employers with 100 or more employees must provide employees with up to 7 days per year. Employers with 25 to 99 employees have to provide up to 5 days per year and employers with 24 or less employees have to provide up to 3 days per year.
Under the District of Columbia Council states that, in order to be paid to leave under the law, employees must be employed for a year and have worked at least 1000 hours during the 12-month period to request to leave. If the employer is able to know beforehand that the employee qualifies for a paid leave, then the employer must have a written request at least 10 days in advance before the proposed leave date. If the need for a paid leave is not foreseen by the employer then the employee must provide an oral request for leave. This poster was made for employers to follow through with the requirements that need to be give to their employees with illnesses and absences due to domestic violence, or sexual abuse.
###