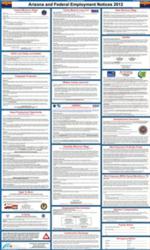 Arizona Labor Law Posters change twice a year.
Los Angeles, CA (PRWEB) December 19, 2011
Arizona has been released with no changes from the 2011 version of the poster. The 2012 Posters are now available for shipping along with the 2012 Federal Labor Law Poster that includes the Employee Rights Posting required by the National Labor Relations Board (NLRB). Arizona labor law posters are also with different government sectors to get the majority votes on which laws should be removed and which ones are to be prioritized.
They make the changes and agreements with these law providers to make sure that the standards are legal and have been approved by the state laws or federal laws. Sometimes the law providers limit the rights of those who work in the private sectors, thus more privileges are given to the public business workers.
###