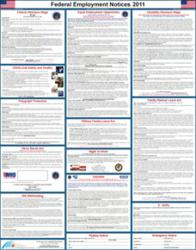 E-verify law is required by all 50 states.
Los Angeles, CA (PRWEB) June 15, 2011
State and Federal Poster Inc. recommends to update the new Federal labor law posters which has changed its E-Verify & Right to Work which verifies the eligibility of the employees to work in the United States. The E-Verify works by the Department of Homeland Security (DHS), U.S. Citizenship and Immigration Services (USCIS) that verifies the employment eligibility of employees. Even federal contractors can enroll in E-verify at any time without waiting for its specific date. The contractor or any other subcontractors that are working on a project are required to enroll within 30 days to the E-verify of its award date. When companies enroll to E-verify, you will be asked many questions and must provide basic contact information. After this process has been completed, USCIS will look through the information and activate the account.
The Genetic Information Nondiscrimination Act (GINA) protects those with disabilities and prohibits the use of genetic information of the employees health. GINA forbids the health plans and health insurers from rejecting coverage of a healthy individual and giving that person higher benefits due to developing a disease in the future. The ADA defines the word disability as a physical or mental impairment that limits themselves from a life activity. The ADA takes part with employers with 15 or more employees which include states and local government.This act states that an individual can not discriminate another individual who can be qualified with a disability.
###