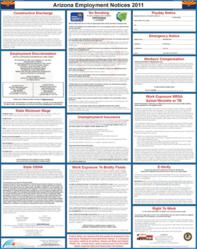 A ten cent raise to the Arizona minimum wage makes employees overjoyed. Employees must report any exposures to the MRSA and must be treated.
Arizona (PRWEB) June 28, 2011
Starting from the bottom of getting paid only $6.90 per hour, Arizona labor law posters have recently changed its new minimum wage to $7.35 per hour which used to be $7.25 per hour. The Industrial Commission of Arizona calculated the increase of living based on the Consumer Price Index and also the successful changes of increased minimum wages made every January. This overview by the Industrial Commission of Arizona approved the raising of the minimum wage once again. This applies to all the Arizona employees except for the federal government, the State of Arizona, and small businesses that do not follow through with the minimum wage. For employees that receive tips regularly as a part of their compensation, the employer must pay up $3.00 less per hour, but if the employee's tip combined do not equal to its minimum wage then the employer must make up for it.
Work Exposure to MRSA is now required to be posted up for the purpose of employees who work as firefighters, law enforcement officers, correction officers, probation officers, emergency medical technicians and paramedics who are not employed by health care. It can be no later then 10 days that an employer can report its exposure in detail. A diagnosis is made for certain exposure such as if an employee has an exposure to MRSA then the employer must be diagnosed for two to ten days. If an employer has a claim for TB, they must be diagnosed for twelve weeks and if the employer has an exposure to Spinal Meningitis, they must be diagnosed for two to eighteen days. The expenses for post-exposures are required to be treated under the medical benefits of the Arizona Workers' Compensation Act for any exposures that happen to appear in or out of employment.
###