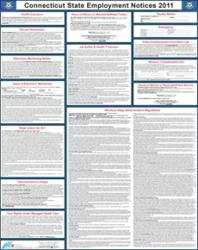 Sexual harassment and discrimination to employees are strictly illegal.
CT (PRWEB) July 01, 2011
Connecticut labor law poster have revised four specific topics on the poster and is now required. The recent change was done to the sexual harassment address change. Sexual harassment means, any unwelcome sexual advances or requests for sexual favors or any conduct of a sexual nature. This notice must be posted with employers with three or more employees concerning the illegibility of sexual harassment and victims of sexual harassment. The sexual harassment poster must include numerous amount of information that will be listed on the poster and will be required for employers. The human resource department must follow through the sexual harassment guidelines made from business leaderships. The second recent change was about the managed care/ health insurance layout revision on this section. Managed care is a range of techniques intended to reduce the cost of providing health benefits and improve the quality of care and this is also a requirement as well. The third change was removing the CT All-In-One poster which was to include filing out a claim for unemployment benefits. This claim must be filed out by the first week that you have become partially or totally unemployed, but now the Unemployment Insurance official versions are available only from the agency or its authorized agent. The last change made to the Connecticut poster was an addition of Civil Union classes to the Discrimination is illegal section. This was added to protect discrimination in Employment, Housing, Public Accommodations, and Credit Transactions.
###