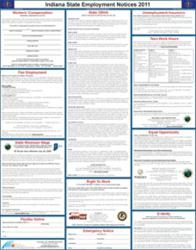 Working requirements for teens of a certain age is very critical and must follow the restrictions of teenage employees.
Indiana (PRWEB) July 08, 2011
Three new sections have been added to the Teen Work Hours poster which provides employers to follow if they have teens that are employed. Under the three new sections that have been added are the working hours before 6:00 a.m. and after 10:00 p.m. Indiana Occupational Safety and Health Administration(OSHA) has formatting changes to try to improve workplace safety and health for all Indiana workers. State and Federal Poster Inc. makes employers aware that the newly changed Indiana poster is necessary.
Equal Opportunity, Teen work hours, and minimum wages are the three sections that have been completely changed and a new poster is required. A notice has been added to the Equal Opportunity and this covers for businesses with six or more employees, the State of Indiana, Unions, other labor organizations, and employment agencies. There are many additional restrictions for employers to follow through if they have an employee that is a teen. Employees under the age of 18 must be accompanied by a co-worker who is at least 18 years of age or older when working before 6:00 a.m. or after 10 p.m. in a business that is open in public. Working during school hours for teens who are 14 or 15 years of age may not work on school days after 7:30 a.m. and before 3:30 p.m. Teens who are 16 and 17 years old who have withdrawn themselves from school or who have graduated from high school are not subject to the hour restrictions above. Lastly the minimum wage notice has been completely reworded and the 2008 minimum wage has been permanently removed.
Indiana labor law poster has reformatted its OSHA poster to help reduce hazards and exposures in the workplace environment that might lead to injuries, illness, and fatalities. Indiana OSHA's Whistle Blower Protections Unit works to help maintain the unity of the Indiana Occupational Safety and Health Act by protecting the the rights that the law gives to the employees. The Indiana Voluntary Protection Programs(VPP) is also included within the Indiana OSHA. The VPP has recognition of such outstanding efforts of employers and employees who have achieved ideal occupational safety and health programs. OSHA works hard to change workplace culture to expand more employers and worker awareness of, commitment to, and the involvement in workplace safety.
###