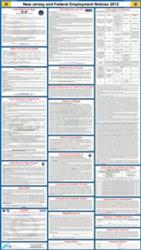 New Jersey State has a new poster requirement that must be followed by the end of 2011.
Los Angeles, CA (PRWEB) November 19, 2011
State and Federal Poster Inc. wants to inform New Jersey State of their new poster requirements that has recently been added called "Employer Obligation to Maintain and Report Records" which means their will be new labor law poster for this state. This new state law informs that employers must follow the new posting which notifies of their obligations to maintain and keep records under the state wage, benefit, and tax laws. Also, the poster must include contact information to file complaints regarding the employer's failure to meet the posting requirements. In addition to these new changes for the new posting requirements, employers need to also support each employee with a handwritten copy of the new "Employer Obligation" poster by the end of 2011. The new requirements will be followed for the new 2012 year. New Jerseys up to date labor law posters with this new state law are available for posting from State and Federal Poster. These posters are required and there will be a fine if these postings are not followed.
###