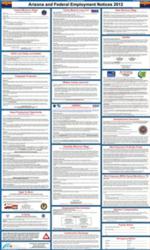 Los Angeles, California (PRWEB) April 05, 2012
State and Federal Poster Inc. has up to date posters ready for posting.
The Arizona labor law poster has recently been updated to new 2012 Arizona Labor Law Posters. Arizona labor law posters must include NLRA which is a law for most private employers that excludes public sector employees, agricultural and domestic workers, independent contractors, workers employed by a parent or spouse, and employees of air and rail carriers covered by the Railway Labor Act. Arizona Labor Law Posters include Arizona Minimum Wage Notice, Workers' Compensation, Unemployment Insurance, Discrimination Notice, Work Exposure to Bodily Fluids, Constructive Discharge Notice, OSHA - Employee Safety and Health Protection, State OSHA, Work Exposure to MRSA, Spinal Meningitis, or Tuberculosis, Arizona No Smoking Notice, Payday Notice, Emergency Notice, Genetic Information Nondiscrimination Act, Federal Minimum Wage, Military Family Leave Act, Uniformed Services Employment and Reemployment Rights Act, Equal Employment Opportunity is the Law, Employee Polygraph Protection Act, Family and Medical Leave Act, OSHA - Job Safety & Health Protection.