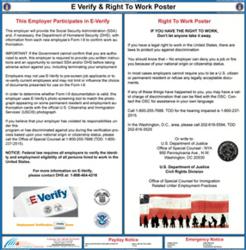 Los Angeles, CA (PRWEB) April 05, 2012
The U.S. Citizenship and Immigration Services expanded its E-Verify Self-Check program to include all 50 States and U.S. commonwealths and unincorporated, unorganized territories because it allows U.S. workers can check their own employment eligibility status after entering information such as their names and social security numbers. The Self-Check portion of E-Verify is different from the system that allows an employer to determine employment eligibility because employers are not to use Self-Check as an employment screening tool.
E-Verify is mandatory for employers with federal contracts or subcontracts that contain the Federal Acquisition Regulation E-Verify clause and employers in certain states. For most employers, the use of E-Verify currently is usually voluntary and limited to only help determine the employment eligibility of new hires only.