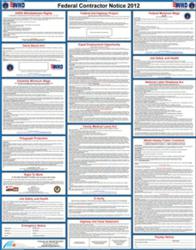 Federal Contractor Labor Law Poster with NLRA!
Los Angeles, California (PRWEB) December 10, 2011
State and Federal Poster Inc. combined the Federal Contractor Labor Law Posters with NLRA to make it easier for customers and it saves up space for having one big poster instead of two. This poster is now combined with no extra fee for the seperate NLRA posters. Please take notice that the new 2012 year is coming soon so there will be new 2012 posting regulations. Also, State and Federal Poster Inc. has the lowest price nationwide guaranteed on all posters. If big businesses and companies do not follow the correct posting regulations there will be a fine that can costs big money. Employment posters are important because it allows employees to know their rights and rules in the work environment. State and Federal Poster Inc. sells complete state and federal labor law posters, state labor law posters, federal labor law posters, and custom posters.
###