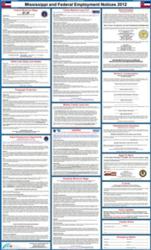 Los Angeles, California (PRWEB) June 29, 2012
State and Federal Poster Inc reminds all companies and corporations that the latest required change to the Mississippi Labor Law Poster is the addition of a second Mississippi Workers' Compensation poster with "Notice Concerning Changes to the Workers' Compensation Law", details that made changes to the state's Workers' Compensation Law that has recently passed.
Updated Mississippi Labor Law Posters are now available for posting. Also, when posting requirements are not followed, there can be fines and troubles with law that can cost up to $20,000 or more.