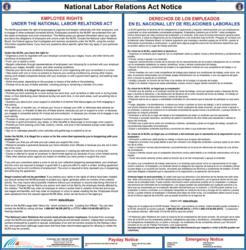 Los Angeles, CA (PRWEB) April 20, 2012
Labor laws tend to update and change frequently; in 2011, there were over 230 changes to the U.S. state and federal labor laws, and it is required for employers to post updated information regularly. Because of the constant updates on labor laws, it is easier to purchase labor law posters from regulated state and federal poster agencies to remain compliant and up to date. State and Federal Poster Inc. guarantees the most updated posters, which would definitely ease up the employers' workload.
All employers must have the National Labor Relations Board Notice of Employee Rights posted to follow up the U.S. District Court Decision that confirmed the authority of the NLRB. The NLRB is authorized to regulate postings of labor laws in the United States. The Notice of Employee Rights allows the employees to be informed of their rights to bargain collectively with employers and notify information of employers and unions under the National Labor Relations Act. With the constantly changing labor laws and updates, State and Federal Poster Inc. makes it simple and easy to purchase the required labor law poster without any hassle or further complication.