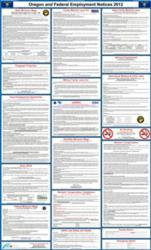 2012 Oregon State and Federal Labor Law Poster!
Los Angeles, California (PRWEB) February 03, 2012
State and Federal Poster Inc. has the new 2012 Oregon Labor Labor Posters with the new 2012 minumum wage rate of $8.80 per hour, the family leave act and the 2012 effective dates. If posting the mandatory labor law posters are not followed it can subject an employer to a civil penalty or count as an unlawful employment practice. Electronic posting is not permitted in Oregon and will not be allowed. 2012 Oregon Labor Law Poster changes include the minimum wage, Agricultural Employees Minimum Wage, and Oregon Family Leave Act (OFLA). Also, the new Oregon Labor Law Posters are available in both English and Spanish.
###