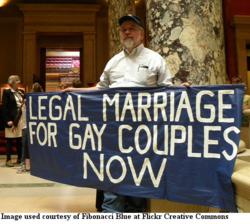 We cannot expect any sympathy with our position on this issue if we fail to empathize with those men and women in the midst of the decision to be married.
(PRWEB) November 09, 2012
"The people have spoken. Now it's time for churches to learn their language," says faith-based website, followme.org.
That statement came this week as voters in three states elected to allow same-sex couples to marry. Tuesday's election marks the first time in the ongoing national debate on gay marriage that state-wide popular votes have produced results in support of gay marriage, according to a Time Magazine report published Thursday.
Voters in Maine, Maryland, and Washington voted to allow same-sex couples to marry, rights that had previously only been affirmed by legislative and judicial action, Time reported. In Maine, voters chose to allow the state to issue marriage licenses to same-sex couples. In Washington and Maryland, the popular vote upheld existing laws recognizing gay marriages as legitimate, the Time report said.
Meanwhile, voters in Minnesota elected not to amend the state constitution to define marriage as solely between one man and one woman. This, too, was groundbreaking as half of the states have approved similar amendments, according to Time. Chad Griffin, president of the Human Rights Campaign, the largest gay-rights group in the world, described the impact of the vote in Minnesota.
"It's the single biggest talking point that anti-gay groups use in city halls, legislatures, Congress: you don't have a popular vote. Taking that talking point away from them is important," Griffin told Time.
But are these popular votes reflective of the national opinion on gay marriage? According to a May 2012 Gallup poll, exactly half of the country now supports legalizing gay marriage. That poll was released just one day before President Obama declared his support for gay marriage in a public interview.
On May 9, Obama sat with ABC's Robin Roberts and discussed his "evolution on the issue" of gay marriage. In that interview, he famously affirmed the rights of individuals to marry, though he prefers that states would rule individually on the legality of gay marriage, he told Roberts.
As the trend toward national legalization of gay marriage continues, how must faith-based organizations handle the delicate topic? Followme.org is a faith-based website that provides spiritual resources for those wrestling through difficult life choices, including the debate on gay marriage. Its leaders suggest that churches stop "ignoring the reality of gay marriage."
"These popular votes affirm that Americans are in favor of recognizing same-sex marriages, for better or worse. Churches and faith-based organizations have a choice to make. Either they can continue down the road toward irrelevance by talking about the issue of gay marriage as one about principles rather than people, or they can choose to seriously re-examine their position on the issue," said Pastor Jamie of followme.org.
"We cannot expect any sympathy with our position on this issue if we fail to empathize with those men and women in the midst of the decision to be married," he said.
Indeed, lobbyists on both sides of the gay marriage debate see the tide changing. Human Rights Campaign president, Chad Griffin, said, "After [Election Day], the gay marriage debate won't be the same. We changed it."
For more information, visit http://www.followme.org, a ministry of ShoutChurch.tv.