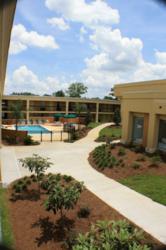 This is the place to stay for family and friends moving students back to Georgia Southern University this coming fall.
Green Bay, WI (PRWEB) August 16, 2012
The newly renovated, 129-room Quality Inn and Suites Hotel downtown Statesboro, Georgia, is set to be part of a Micoley.com Sales Event. According to Micoley, this college town, prime location hotel is part of their Sales Event taking place online, where bidding available now until August 31, 2012.
College students will be moving back to school this fall and what better place for their friends and family to stay at than this modernly renovated hotel featuring a full bar and restaurant, outdoor pool, fitness center, and large banquet and meeting space fit to accommodate 500 guest. "This property holds a great opportunity for revenue from its downtown location, minutes away from Georgia Southern University, Hanner Fieldhouse, and many other local attractions," stated Wade T. Micoley, president of the Micoley Company.
The economy is on the rise and more people are venturing out and taking vacations. This is a great time to purchase hotel property before the prices go up. Previously valued at $2,950,000, bidding for this property is set with an opening bid of $1,032,500. Interested buyers can obtain more property information, register, and bid online by going to Micoley.com.
Micoley.com, located in Green Bay, WI, is a real estate marketing firm specializing in bank-owned properties throughout the United States. Their unique approach to real estate sales is executed through customized marketing programs and project focused auction plans, customized for each of their unique clients. Be sure to visit their website for future Auctions and Sales Event information as inventory changes daily.