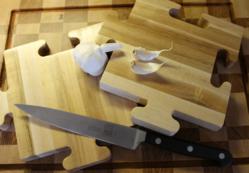 Chetek, WI (PRWEB) April 05, 2013
Robert Wendt, owner of Woodbob.com Woodworking is always thinking of new and exciting ideas for his durable, handcrafted cutting boards. To him these boards are more than just a surface to cut on, they are of the highest quality and provide an excellent style to anyone's kitchen.
Woodbob.com Woodworking is based in Chetek, WI, in a small work shop, behind Robert's home. Due to his determination and hard work, Robert has turned a woodworking hobby into a business of great potential. With the high demand for these unique cutting boards, Robert has his sights on being a leader in the cutting board market.
Robert is now pleased to announce the "Build-Your-Board" style puzzle cutting board. This board is a spin off idea of Robert's existing 10" x 10" puzzle cutting board, and gives more convenience to build the board the size that is acommodating. Orders can be placed of just one puzzle piece or several puzzle pieces at a time. Robert also offers custom engravings for all boards per request if someone would like something more personalized to truly call their own.
Woodbob's quality handcrafted puzzle boards come in handy as they are space-saving whether it be used at home or taking a camping trip. The single pieces also make great serving trays for any occasion and are a great gift idea for weddings, birthdays, holidays, etc. The boards are constructed from brown maple wood and are 100% food-safe. If puzzle boards aren't your style, Woodbob also offers state shaped, country shaped, and custom shaped cutting boards.