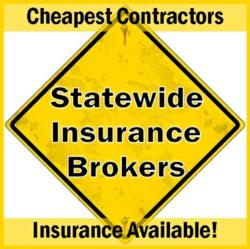 Our expansion is fueled by demand... due to our extremely competitive rates.
Pasadena, CA (PRWEB) July 13, 2011
Statewide Insurance Brokers, the contractor insurance specialist, has hired new agents and other personnel in two offices, to handle increased demands for contractors' insurance products such as general liability insurance.
"Our expansion is fueled by the demand," stated Marcel Matar, a senior underwriter with the company, "that is created by our extremely competitive rates. We specialize in servicing contractors and have created key industry alliances that allow us to provide excellent quality coverage at exceptionally low insurance costs."
Matar added that it is primarily due to their specialization in contractors' insurance products and high business volume that allows them to offer top quality insurance at prices that other companies cannot match.
Earlier this year the company announced three new states that it is licensed to operate in. The states now include California, Texas, Nevada, Oregon, Minnesota and Virginia.
A leading provider of contractors insurance, Statewide provides general liability insurance (also known as commercial liability insurance), workers compensation insurance, commercial vehicle insurance including automobile and truck, and surety/performance bonds.
In order to be able to offer the highest quality service possible, Statewide has an extensive in-house training program for staff with a specific training regimen that assures they are up to par. They also have a live answering service for after hours.
Since 1995 Statewide Insurance Brokers has insured thousands of contractors in six states and insures all types of contractors including insurance for general contractors, air conditioning installers, sheet metal contractors, cable and television installers, pressure wash specialists, fence installers, electrical, roofing, flooring installers, window washers and many more.
# # #