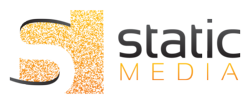 One of the biggest reasons that we wanted a new webdesign was to expand our services offered beyond standard SEO.
Salt Lake City, UT (PRWEB) May 11, 2011
Static Media, an Internet marketing firm located in Salt Lake City, Utah announced the launch of a completely redesigned web design offering their SEO, PPC, social media and internet marketing services. The new internet marketing website can be located at http://www.staticmedia.com
Static Media, wanted a custom web presence to distinguish their unique services from other internet marketing companies, in addition to designing it to the many new services that are available. There were two main objectives when developing the new website: create a unique, interactive site that will serve as a resource for potential clients looking to expand their internet presence. They also plan on a regularly updated blog that will offer tips and resources related to Search Engine Optimization (SEO), Pay Per Click (PPC), Social Media management and other forms of internet marketing.
Dan Edmund, co-founder of Static Media, had this to say about the new Static Media website, "One of the most important reasons that we felt a new web design was important was that we are offering a lot more than just standard SEO now such as social media management, email marketing and much more. Over the course of the next few weeks, we will start importing previous blog posts and fine tune the website as visitor's feedback starts coming in. Our goal is to give the visitor a very unique experience by cutting to the chase of services we offer, but also give them access to our very large social network and new services that we offer. Another main area of focus will be taking our 10 years of experience and sharing tips that we have learned on our new website, regardless of if they are a client of ours or not."
About Static Media
Static Media is a comprehensive search internet marketing firm located in Salt Lake City, Utah. Their focus is driving traffic and conversions to their clients websites through the methods of search engine optimization (SEO), Pay Per Click (PPC) management, E-mail, Social Media Marketing and other forms of internet marketing. Clients range from local companies to very large national companies.
To learn more about Static Media, SEO, PPC and other forms of internet marketing, contact:
Dan Edmund
admin (at) staticmedia (dot) com
(801) 882-RANK (7265)
http://www.staticmedia.com
###