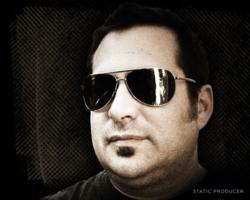 Seattle-based group, Static Producer, releases their debut album, 1.
Seattle, WA (PRWEB) November 14, 2012
Seattle-based group, Static Producer, releases their debut album, 1.
Static Producer is a Seattle-based group put together and spearheaded by Jay Lux. Their music is gritty, somber, yet hopeful. Growing up in a middle class neighborhood in Minneapolis, Minnesota, Lux's love of music and performance started at a young age and has carried through to his adult life. During his youth, he sang in the choir and played in the school band. He spent most of his teenage and early adult years playing bass in such bands as Punchinello Tea, Mannyís Groove, and The Crutch People. After barnstorming through the Midwest for several years, he took a short break from playing bass and touring extensively with various bands to explore other artistic mediums, studying poetry, photography, producing a few short films, only to find himself back in Seattle ready to make music again. Not only is Lux a vocalist, but he plays guitar, bass guitar, upright bass, keyboards, and flute. On 1, he is joined by Ted Pickett on bass and vocals, and Frank MGann on drums. Recently, Static Producer finished in the top three of Seattle's 2012 Battle of the Bands and were invited back to play Seattle's 2012 Rock Fest and the 2012 fundraiser for VH1.
The music on 1 is entirely written and arranged by Lux as he worked through the emotions of pain, anger and hope after losing his father. The melodic rock ensemble consists of hard driving drumming, euphonically alluring bass, symphonic guitars and haunting vocals. Their unique sound has something to offer every listener as it is a fusion of heavy rock and delicate melodies. "Arrogance" and "Pumps Primed" have the edge of modern industrial rock, but are carried by the warm bluesy folk rock quality that is seen in all of Static Producer's songs. "Bleed Our Bones," "Slid Out," and "Yesterday" reveal a softer indie vibe, but still have the alternative rock drive that creates the cohesion of the album.
1 was recorded by Jon Rook at Fastback Studios, mixed and mastered by Kevin Bressler at Whiney Cat Audio and produced by Jay Lux.
You can learn more about Static Producer at http://www.jaylux.com
For more information or to schedule an interview, please contact Melissa Zeigler: melissa(at)powderfingerpromo(dot)com