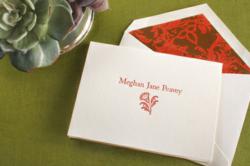 WestKennebunk, ME (PRWEB) December 14, 2012
"The one true gift is when we give of ourselves."- Ralph Waldo Emerson
This idea rings especially true when we receive a handwritten note: it's like getting a piece of the sender's heart in the mail. The holidays are a time when people think about making meaningful connections, and when luxury stationery company William Arthur sees their personalized stationery sales go up.
It's a trend some may find surprising. With the ubiquitous presence of social media and mobile communication in our daily lives, the idea of a handwritten note has become increasingly quaint.
"We believe that's why people love to give and receive stationery as a gift," observes Lisa Blinn, Vice President of Design and Marketing at William Arthur. "Sending one's thoughts on beautiful paper is a refreshing antidote to the instant digital communications of our everyday lives. We hear this from our customers all the time: a handwritten note is a treasure to both send and receive."
Rita Siavelis, a psychotherapist from Portland, Maine agrees. "I love the idea of someone taking the time to write down their thoughts and feelings--it feels like a present in the mail. And I love the feel of stationery, it's like an extravagance."
"Stationery makes a lovely gift—at the holidays or any time of year. It's actually a romantic Valentine's Day gift, too," notes Blinn, "It shows real thought, to give someone a personalized stationery, which is something many people don't consider buying for themselves. When you give someone stationery, it's
as though you're telling them that what they have to share on paper is a gift worth receiving."
ABOUT WILLIAM ARTHUR
William Arthur stationery, invitations, announcements and holiday cards are renowned worldwide for beautiful designs, substantial paper stock, rich embellishments and exceptional printing.
For more than 60 years, William Arthur's fine stationery products have helped people turn special moments and once-in-a-lifetime occasions into lasting memories. At their home in West Kennebunk, Maine, their craftspeople keep the techniques and traditions of fine paper and printing alive, combining time-honored print methods with state-of-the-art design and technology. Simply put, they are passionate about creating beautiful stationery. That passion is shared with their customers by providing exquisite products and extraordinary service. View their extensive collection at http://www.williamarthur.com. To find an authorized retailer, select the "Find a Dealer" link.